By Emily Gray
Published 3/9/20
'Whenever we create a new chocolate or gift, we think about the reaction of the recipient, delighting people is our focus.'
After visiting and speaking with Maria Chebab, founder of chocolatier, Maison Samadi it's easy to see why they are the ultimate gift destination when it comes to chocolate.
The Samadi brand started back in 1872 when Maria's great grandfather started a successful sweet company in Lebanon. Maison Samadi builds on this heritage of confectionery, but focusing on chocolate with a French twist. Combining Maria's knowledge of chocolate with her husband, Nabil's career in product development, Maison Samadi draws upon 30 years of experience to create an extensive selection of hand-crafted chocolates made from the finest ingredients such as Plaisir, a pyramid shaped chocolate filled with gianduja, hazelnut and almond, dark chocolate pistachio truffles, rich cocoa dusted chocolate truffles and Regale, a dark chocolate filled with praline and hazelnut. Alongside their chocolates they have petit gateaux including a mini Red Velvet cake, chocolate thins filled with the likes of jasmine and rose, stuffed dried fruits, passion fruit melting hearts and Nostalgie, made from nougat and malban. Creating one to two new flavours a season is important, 'we want people to be intrigued in what we have just made', says Nabil. This year they launched a very successful vegan range of chocolates and they also have a no added sugar range with one bar having only 1g of sugar per 100g.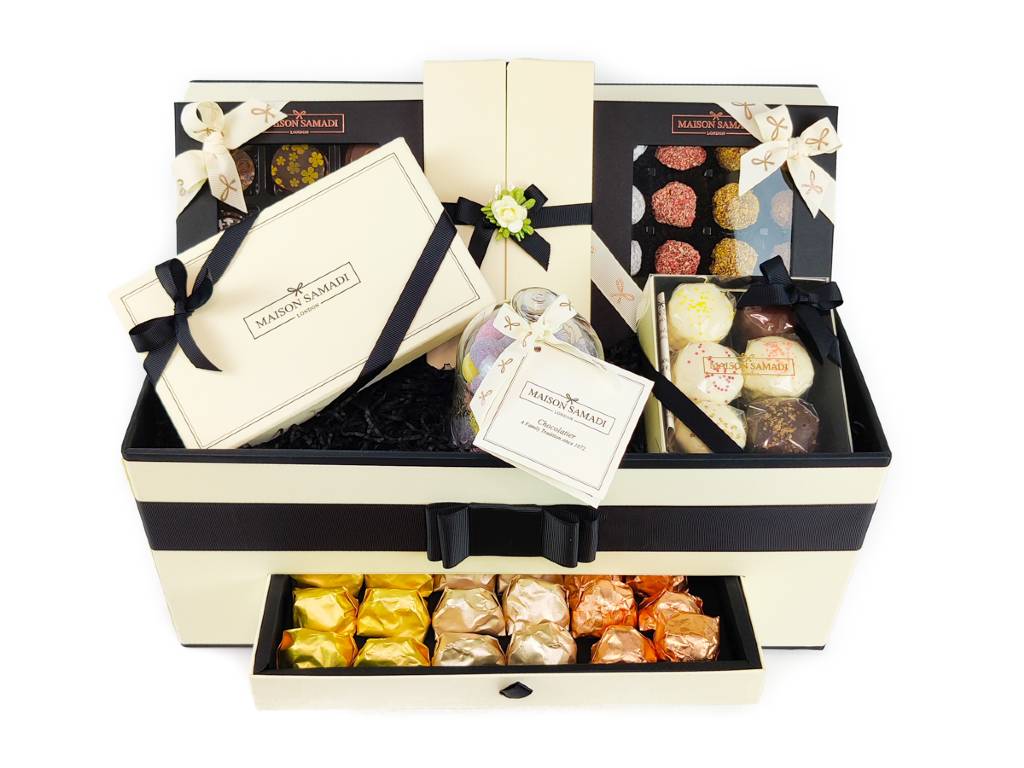 When it comes to chocolate gifts or supplying chocolates for events, Maison Samadi provides a first class, bespoke service. They have designed spectacular gifts for 5* hotels (both for their suppliers, VIP guests and in room amenities), royalty, embassies and private clients. 'We never want to replicate a gift, we want it to be exclusive for that customer, we can make something similar, but we're constantly finding new ways to be creative both in our chocolates and the way we present them, we're the haute couture of chocolate so to speak, the sky really is the limit.' says Maria.
And that's the thing, whilst they are a chocolatier, they're not just a chocolatier.
'We're a brand that adds art to chocolate we give it a fashionable twist'
explains Maria and it's this that makes Maison Samadi the go to chocolatier when you want something truly unique for a celebration or an event.
Celebrating all seasons and festivities, they have new exciting chocolate collections each year which are perfect for Easter, Eid, Christmas, weddings, birthdays and baby showers or any other time you want to show some love with a gift of chocolate. Their artistry combined with their continuous dedication to producing next level gifts has led to ornate flourishes which others just can't match, such as the real roses that adorn their hamper boxes - they're treated to last a year so that they can be used as beautiful centerpieces for tables. This commitment to providing the best has seen them accept a last minute request which involved them having to hand wrap over 1500 chocolates overnight to deliver to a princess who had just given birth; they've changed the colour of the wrappers for a gender reveal, built incredible displays of chocolate to match the palette of a room, impressed wedding guests with their luxurious, elegant souvenir boxes and even created bespoke flavours.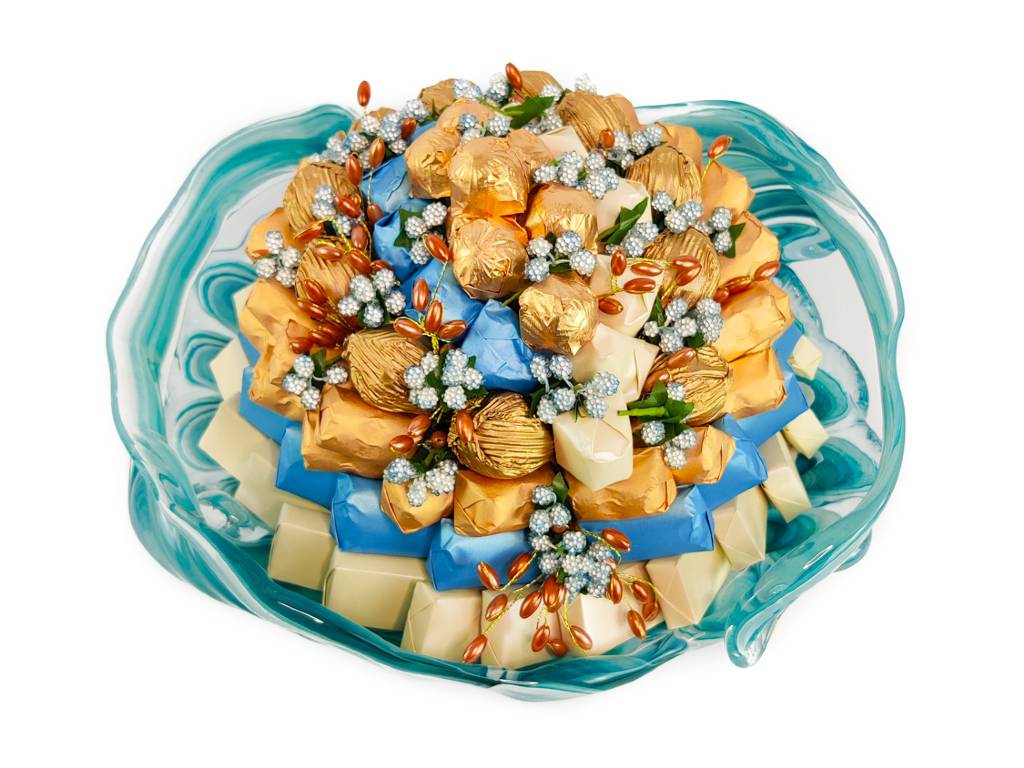 Clients can buy a selection of Maison Samadi chocolates in Harvey Nichols in Knightsbridge, online or they can visit them in their beautiful store on King Street near Ravenscourt Park to discuss their requests in a private sitting room and unlike many other bespoke services it's not by appointment, meaning that whilst more notice is better for more elaborate requests, they can help you if you are stuck for time.
Maison Samadi is one of those companies that truly puts their customers first, they're committed to enchanting people with their chocolates and making each gift truly unique.
To find out more about Maison Samadi click here or watch Maison Samadi at Harvey Nichols below.