By Emily Gray
Published 9/11/2020
There are certain things that you should not scrimp on in life and given the fact that you spend around a third of your life asleep, a bed is one of them. With sleep affecting your mood and health, it makes sense that you want to get the best, but how about buying the most exceptional bed in the world?
Innovative British bed brand, Ammique, has joined forces with Rowland Art Engineering to create the 'Wave', a nautical inspired bed that's set to be the epitome of quality, luxury and British engineering and at around £350,000 it is one of the world's most expensive beds. We caught up with Anthony Greenhalgh, design director of Ammique and Lee Rowland, founder of Rowland Art Engineering to find out about the 'Wave', the inspiration behind it and what sets it apart.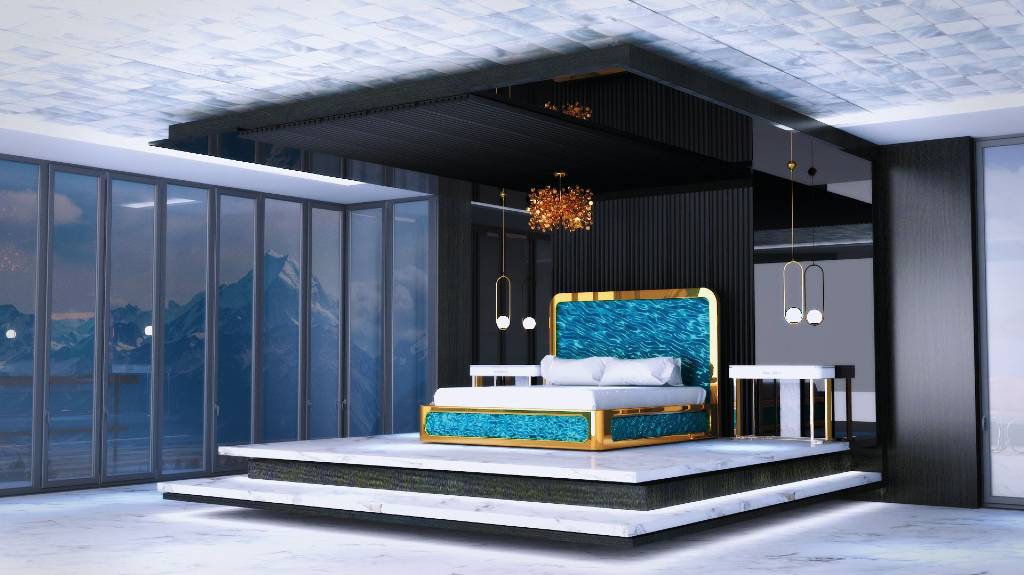 How Did The Wave Come About?
Ammique is known for their sustainable, precision-engineered, luxurious mattress-free beds that provide instant body contouring support regardless of your shape or weight. "They were looking to embellish their existing bed to make it something even more special," says Lee.
Anthony Greenhalgh joined forces with Lee Rowland, a former aerospace engineer known for his free-flowing sculptures and creative engineered tables and accessories to create a bed like no other. 'We wanted to create a bed that would be the embodiment of style and artistry with the best features, technology and design. We approached Lee because we wanted to combine his talent for creating fluid engineering sculptures with our unique bed. Since we both have a background in super yachts, the nautical theme with the deep blues felt like a natural fit,' adds Anthony.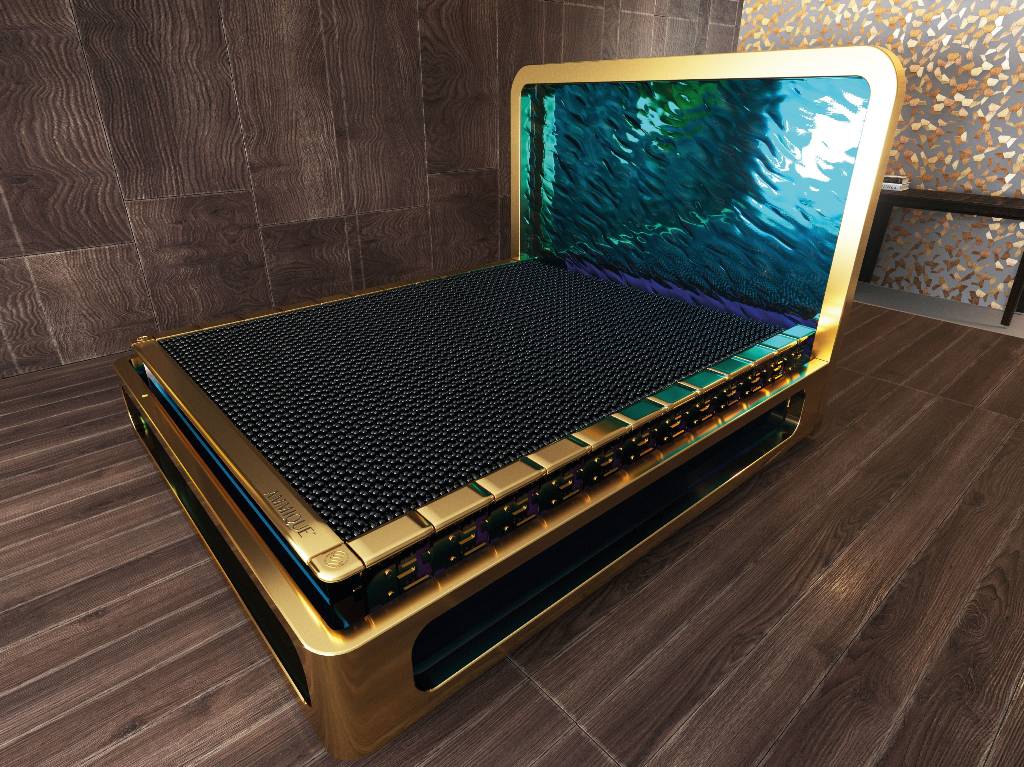 What Sets It Apart?
So just what makes the Wave so exceptional? Well first, it's the headboard and panels, made from CNC machined acrylic blocks, they capture the fluid surface of waves, which means as the light changes throughout the day so does the effect across the bed mimicking the movement of ripples. It is not just a very special bed but a work of art.
Then you have the materials. The first three 'Waves' will be limited edition and made in 6mm brass plate finished with gold plating at 8 microns. Thereafter the bed can be finished with any precious metal that is requested. "You don't imagine hard engineered materials to be comfortable, but that is the wonder of modern engineering because Ammique is the most supportive and comfortable bed," says Lee.
And just like all other Ammique beds, the Wave is 100% recyclable and mattress free, which given that (according to the National Bed Federation), 8 million mattresses a year end up in UK landfills, is something to be championed. Not that you're going to want to or need to recycle an Ammique bed anytime soon, because they are the most sustainable beds in existence, something recognized by the Positive Luxury Awards who shortlisted them for Innovation of the Year. 'The Wave will certainly outlast us all. It follows the same principles as all our beds and is built to last and guaranteed to perform for a lifetime lasting for over 100 years and more. "Unless there is an apocalypse or someone decides to destroy it, this bed is going to be around much longer than any of us!" says Anthony.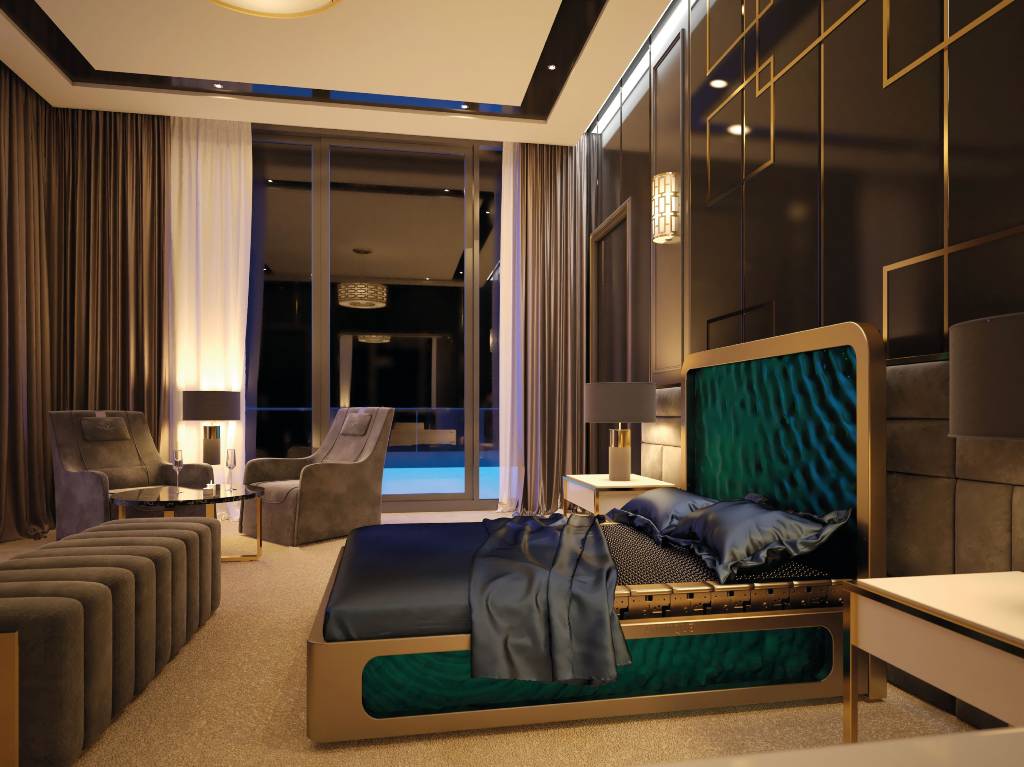 Where Will The Bed Be Going?
Initially, Lee and Anthony are making a run of three special edition Wave beds which are plated in gold before they make further variations, making it not only one of the most expensive but also one of the most exclusive. Whilst the bed may have a nautical theme it is not destined for a yacht...unless you want it in yours.
The £350,000 Wave is an ultra-luxurious bed benefitting from the most advanced sleep technology ever, conceived and created with no expense spared befitting the most discerning clientele in the world. Anyone can apply to buy a Wave bed, and those selected will receive a handcrafted mahogany box with further details. If you can't wait to try an Ammique bed there is now one at The Berkeley in Belgravia. For details of how to book a stay at the hotel contact: sleep@ammique.com