Elizabeth Greatrex
Shrove Tuesday this year lands on the 25th February. A day we are thoroughly looking forward to. Not necessarily for the purpose of confessing our sins, which is the real meaning behind the day, but purely because it means we have an excuse to eat a lot of really good pancakes, guilt free.
However, if there's one thing we'll be happy to confess to this February, it's the list of fabulous places that we recommend you go to to enjoy some absolutely scrumptious pancakes.
We'll see you there.
The Wolseley
160 Piccadilly, St. James's, London W1J 9EB
"Wherever, whenever breakfast comes, it is a mouthful of stoic optimism."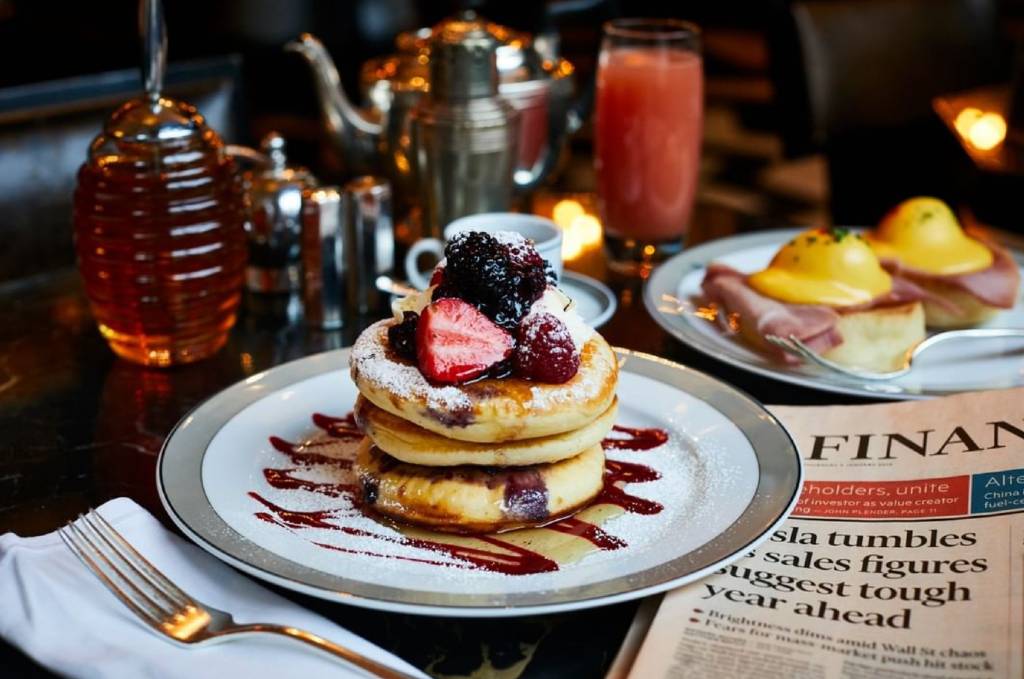 observed AA Gill in his book, Breakfast at The Wolseley. A quote which perfectly defines how we feel about this beautiful 1920's brassiere, and it's 'perennially popular' pancakes that we would happily eat all day, every day, if we could. The Wolseley is famed for its breakfast experiences, with its reputation needing little introduction. It's the kind of place that provides a breakfast that you won't be able to stop talking about, that you'll be nagging your friends to go and see what all the fuss is about for months afterwards.
Surrounded by the bright, buzzing atmosphere of The Wolseley, which can be found in the heart of St James's; there really couldn't be a better place to tuck into a delicious stack of fat, fluffy pancakes served American-style with bacon or topped with juicy, seasonal berries and dusted with icing sugar.
However, if you're after a lighter snack, The Wolseley also serve buttered crepes with Nutella and chocolate sauce or lemon and sugar.
Drunch Mayfair
1 Woodstock St, Mayfair, London W1C 2AA
"Beautiful interiors and beautiful food."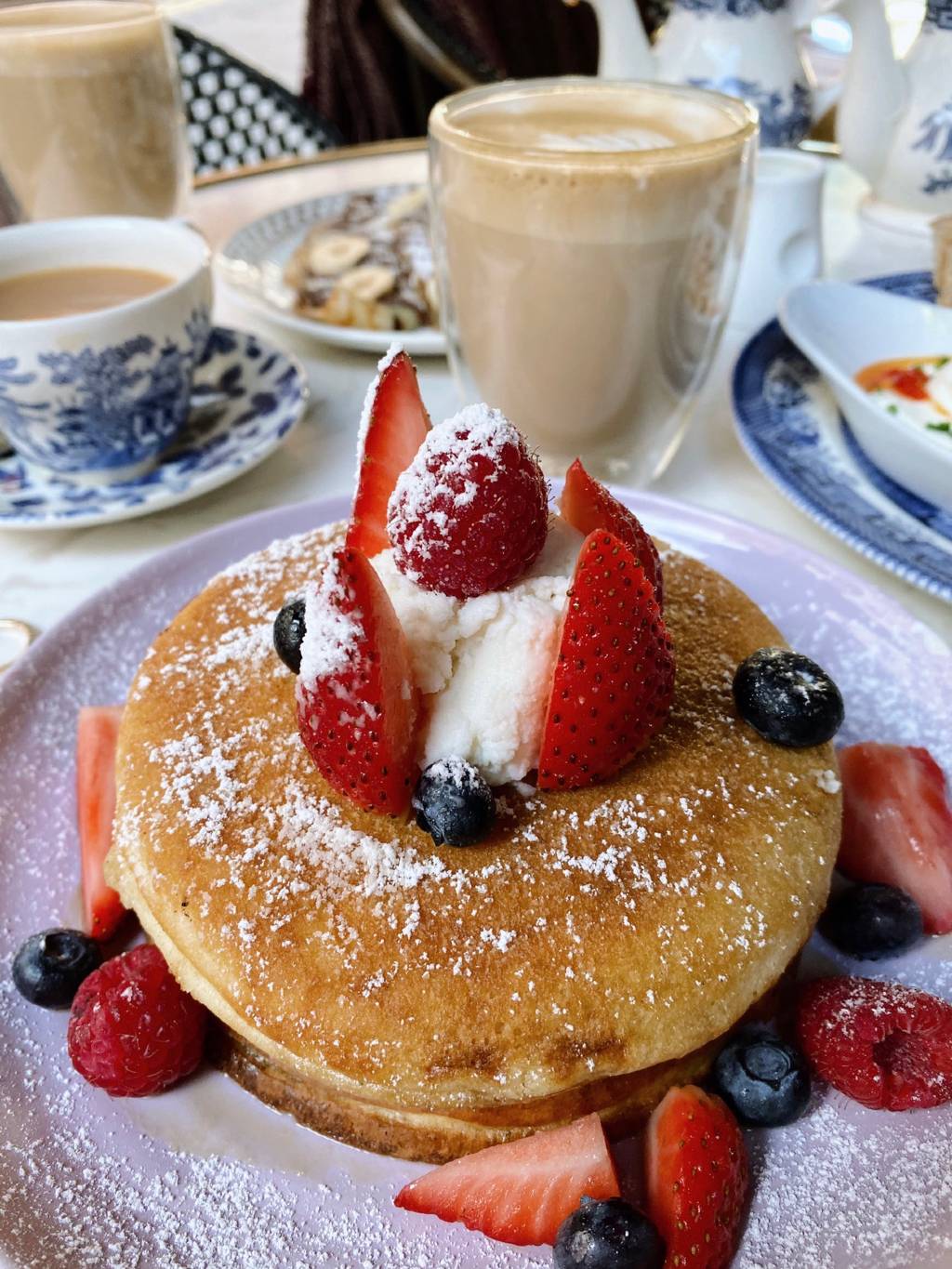 Although the weather outside is still cold and dreary, entering the floral paradise that is at Drunch Mayfair is sure to fill you with the warmth and positivity that only the birth of spring can bring. With flower arches, wisteria curtains and rose walls in full bloom, Drunch certainly does not disappoint when it comes to aesthetics.
But even more wonderful than the flowery decor of this eclectic all-day brunch café is of course, the pancakes. Here, you can feast on a huge portion of mouth-wateringly good, irresistibly instagrammable, scotch pancakes. You can choose between a topping of luscious banana and Dulche de leche or ricotta and fresh, plump berries finished with a drizzle of sweet syrup. And to quench your thirst, Drunch offer a range of refreshing signature juices and stencilled coffees.
Granger and Co
175 Westbourne Grove London W11 2SB
"Ultra-healthy, modern, colourful food that avoids worthiness."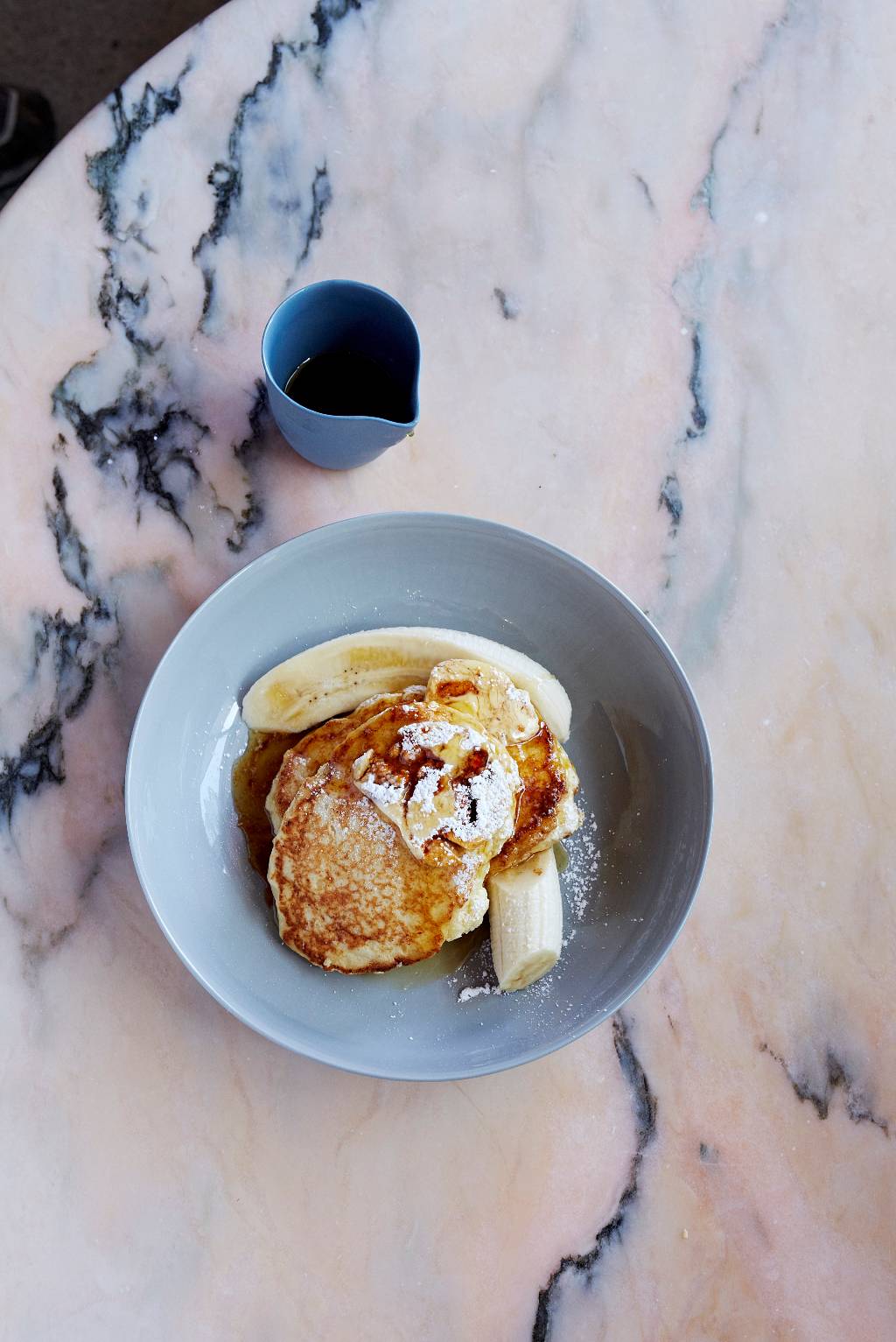 With branches in Notting Hill, Chelsea, Kings Cross and Clerkenwell, Australian restaurant Granger and Co brings the laidback, cheerful Aussie vibe to London. Founder Bill Granger is a self-confessed comfort food lover, a mood he has successfully infused into every aspect of this dreamy location. From its crisp white walls and spacious surroundings to its all-round jovial atmosphere and legendary breakfast menu filled with nourishing, flavoursome dishes.
The leading lady of this all-day brunch joint is quite obviously the thick, warm ricotta hotcakes with a cloud-like appearance, served with heavenly honeycomb butter, trickled with sweet syrup and surrounded by perfectly placed slices of banana. If you'd rather opt for savoury, they also serve crunchy Wiltshire bacon.
If you're keen to check it out, be sure to get there early, as queues to experience Granger and Co, have been known to gather down the street on weekends.
The Delaunay
55 Aldwych, Holborn, London WC2B 4BB
"Few restaurants know how to serve a straightforward plate of food as well as The Delaunay."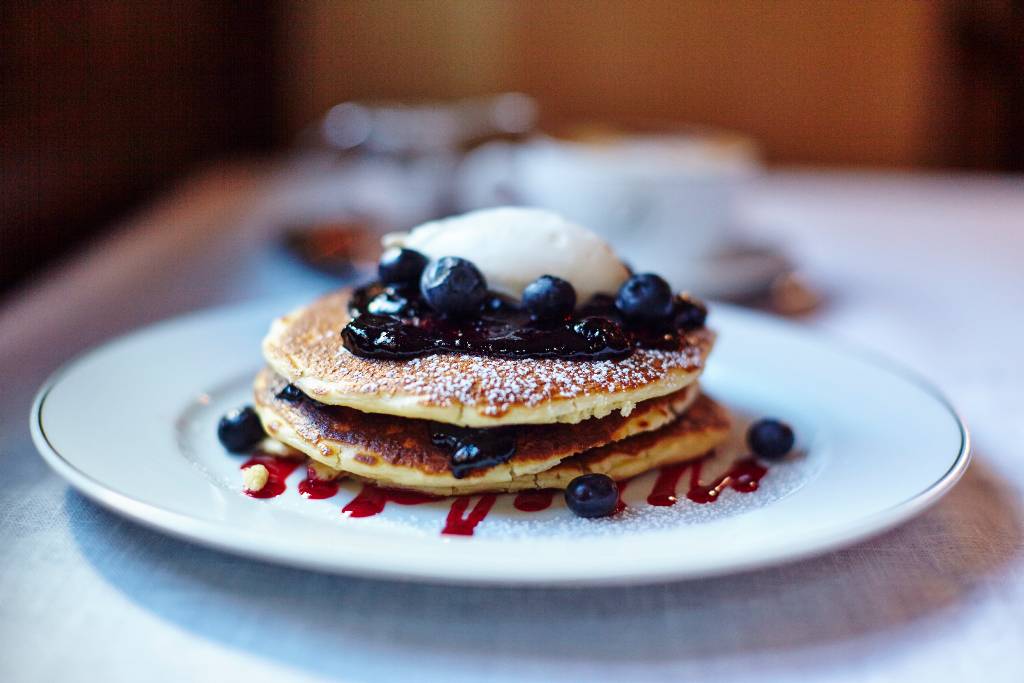 The Delaunay is an effortlessly cool, European style, all-day café-restaurant in Covent Garden, with such an atmosphere of opulence and occasion that you will most definitely feel like celebrating with ordering their simple, yet scrumptious pancakes which we just adore. Make sure you visit this restaurant extra hungry, as they serve a rather generous pile! Served with either a cinnamon and plum compote or blueberries and crème fraiche, the flavours are strong, yet mix perfectly together. Many pancakes are just a bit too sweet for the average person, which is why we are thankful for the crème fraiche's role in the dish, preventing any potential sickly-sweet effect. You will probably be too full to manage one of The Delaunay's other dishes, however the restaurant has a fabulous wine list to choose from, with every bottle sourced from within Europe.
Christopher's
18 Wellington St, Covent Garden, London WC2E 7DD
"Perfect for a special occasion."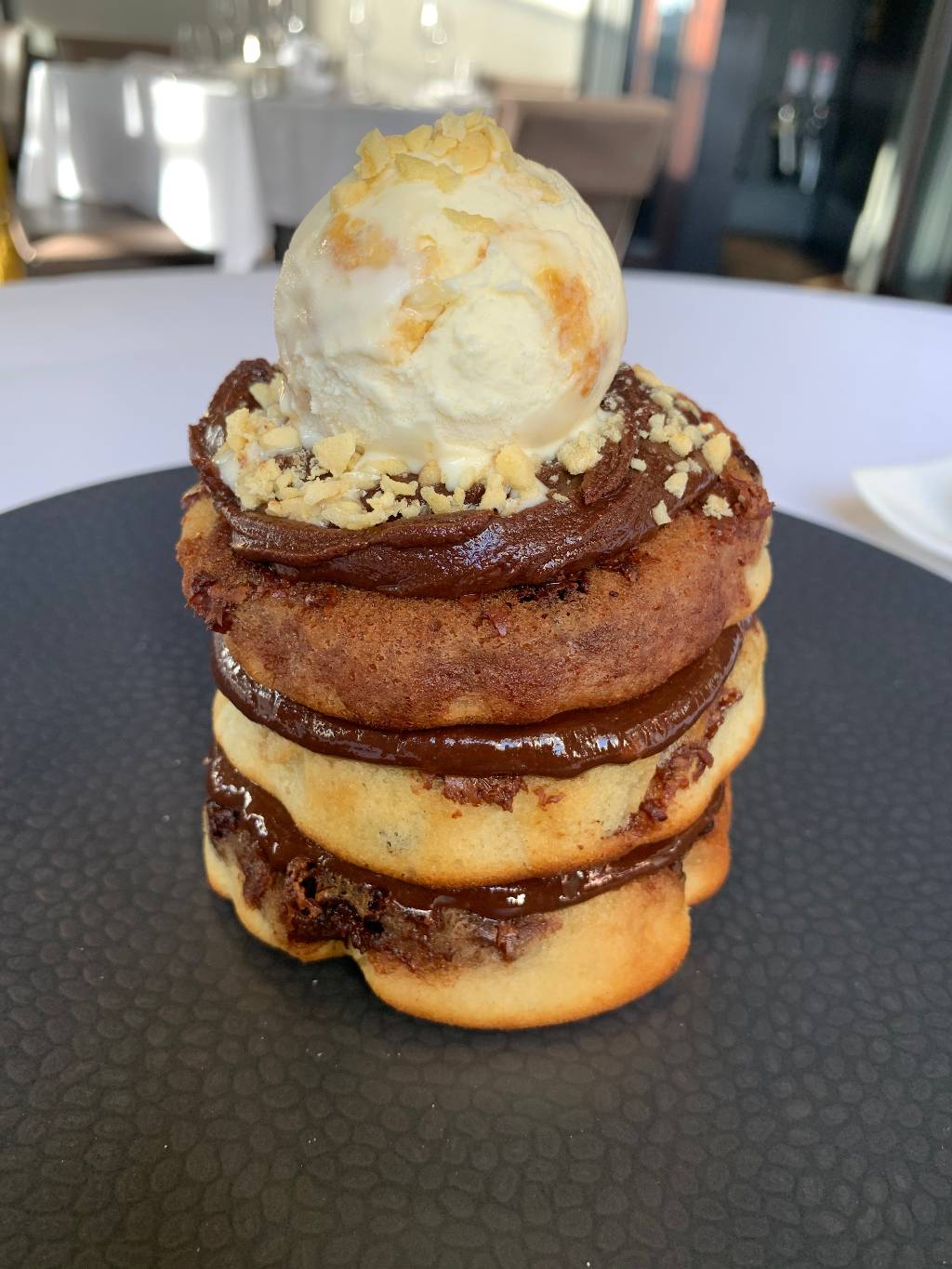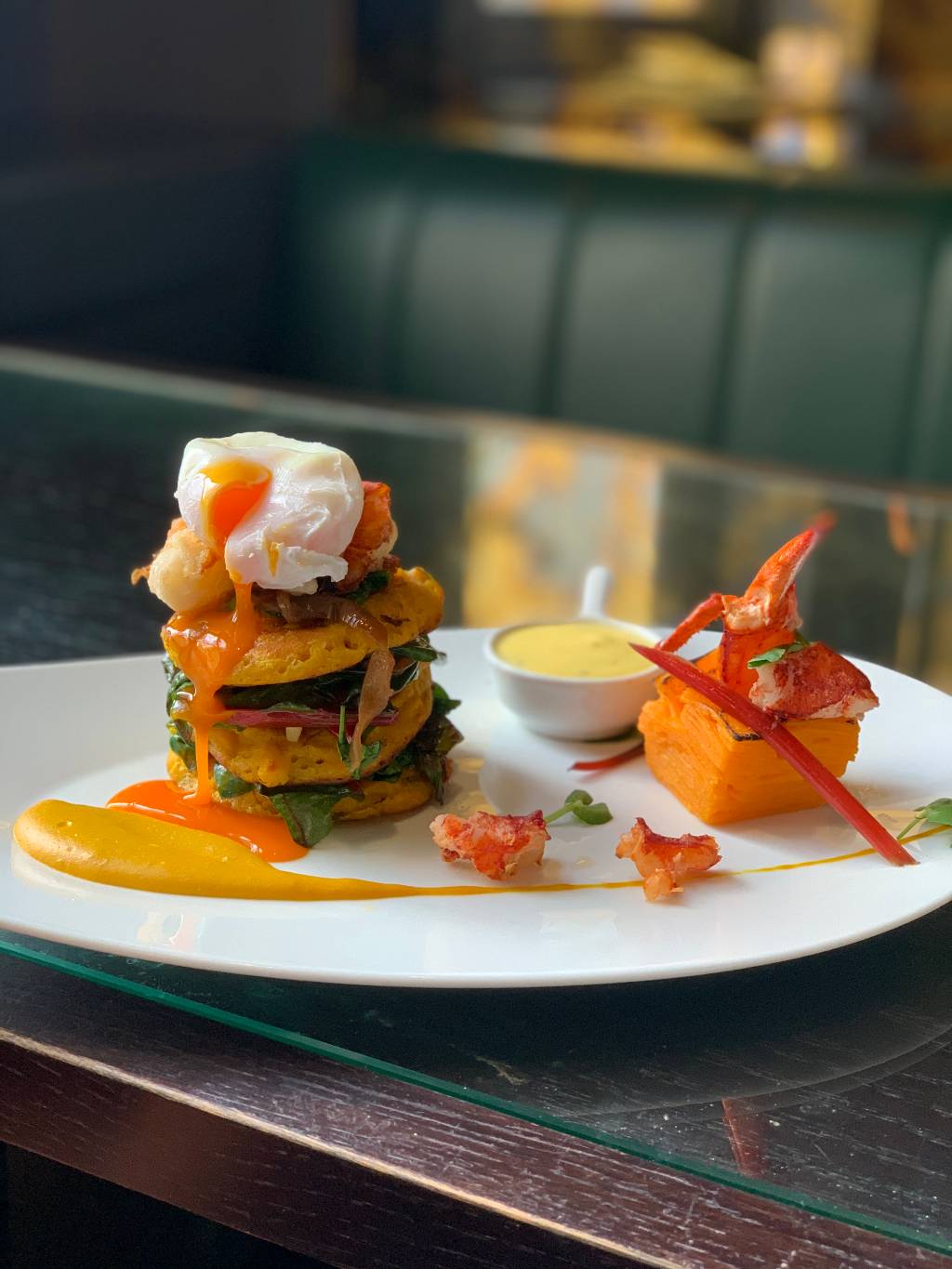 Above, Left, 'Honey I cooked the pancakes!' Above, Right, 'Lobster Benedict Stack'
Christopher's resides in a Grade II listed building in Covent Garden, and has an interesting history. It was once the location of London's first licensed Casino, and also a papier-mâché factory, but since 1991 it has been establishing its well-earned title as one of London's prime American restaurants.
The ambience of Christopher's is effortlessly sophisticated, yet relaxing at the same time, and we just love to lose ourselves in the heady glamour of the Modern American era at this elegant restaurant. Known for its superior American comfort food, this is one of our favourite places to go for pancakes. Christopher's cleverly named 'Honey I cooked the pancakes!'' dish is compromised of chocolate chip, cookie dough buttermilk pancakes served with a hazelnut ganache, honeycomb ice cream and dark and milk chocolate sauce; and will certainly satisfy those of you with a particularly sweet tooth. We recommend you wash down with a fresh orange juice, or perhaps a grand mimosa if you're feeling extra celebratory!
Christopher's brand spanking new stack 'Peaches N Cream' will also be available exclusively on the 25th February. Consisting of a heavenly brown butter and almond buttermilk pancake stack, vanilla mascarpone, grilled peaches, peach melba ice cream and maple syrup. Irresistible. However, if you would prefer something a bit more savoury, Christopher's 'Lobster Benedict Pancake' will be waiting for you. Made from a gluten-free, turmeric spiked base and attended by a soft poached egg, butter poached lobster and kale, and finished off with rich béarnaise sauce, you really can't go wrong with this nutritious stack.
Listique's Vegetarian Choice: Mortimer House Kitchen, Fitzrovia
37–41 Mortimer Street, Fitzrovia, London W1T 3JH
"There's no such thing as perfection, but Mortimer House Kitchen comes very close."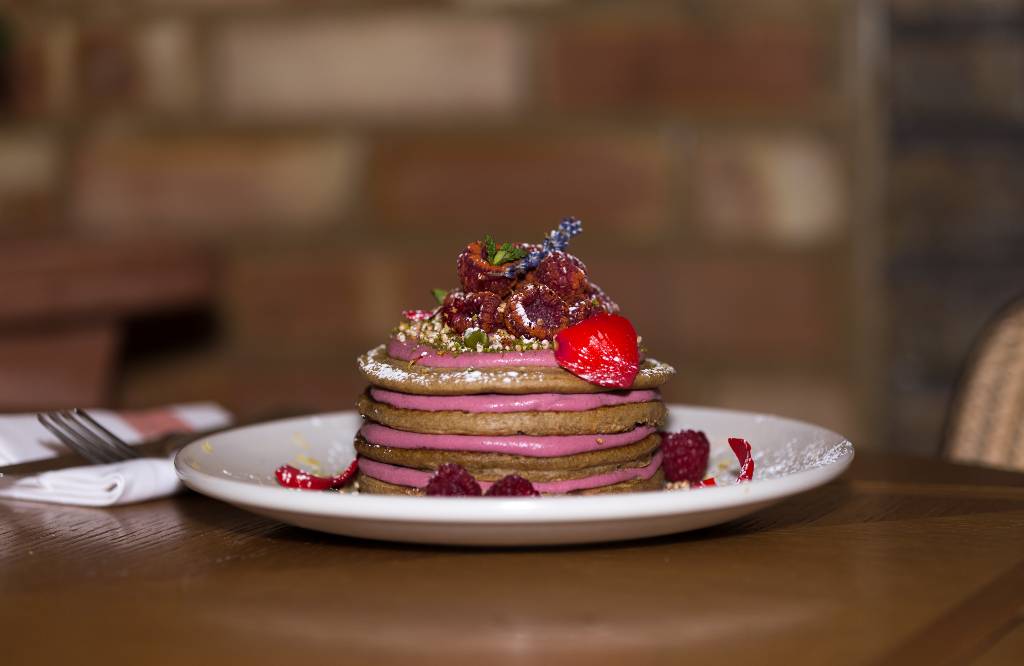 If you're vegetarian or have food allergies, we understand that this isn't always the easiest day to celebrate. However, we suggest you try Mortimer House Kitchen in Fitzrovia, as they are serving a gluten-free, veggie pancake day special all day long in their ground floor restaurant. Even if you're not veggie or gluten-free, Mortimer House Kitchen's pancakes sure to hit the spot, and you wouldn't even notice the difference in terms of taste. This is an insanely good stack of colourful pancakes sandwiched together with delicious raspberry and white chocolate and topped with fresh, succulent raspberries and popped quinoa. Enjoy them surrounded by the calming, majestic surroundings of Mortimer House Kitchen.