By Emily Gray
Published 17/03/21
All things going to plan at the end of this month we'll be able to meet up with another household or in groups of six outside and that means picnics are definitely on. Whilst we can't guarantee that you won't be caught in an April shower, (here's a helpful link to an London's finest umbrella shops, you're welcome) with one of these luxury hampers we can ensure that you'll upping the picnic game.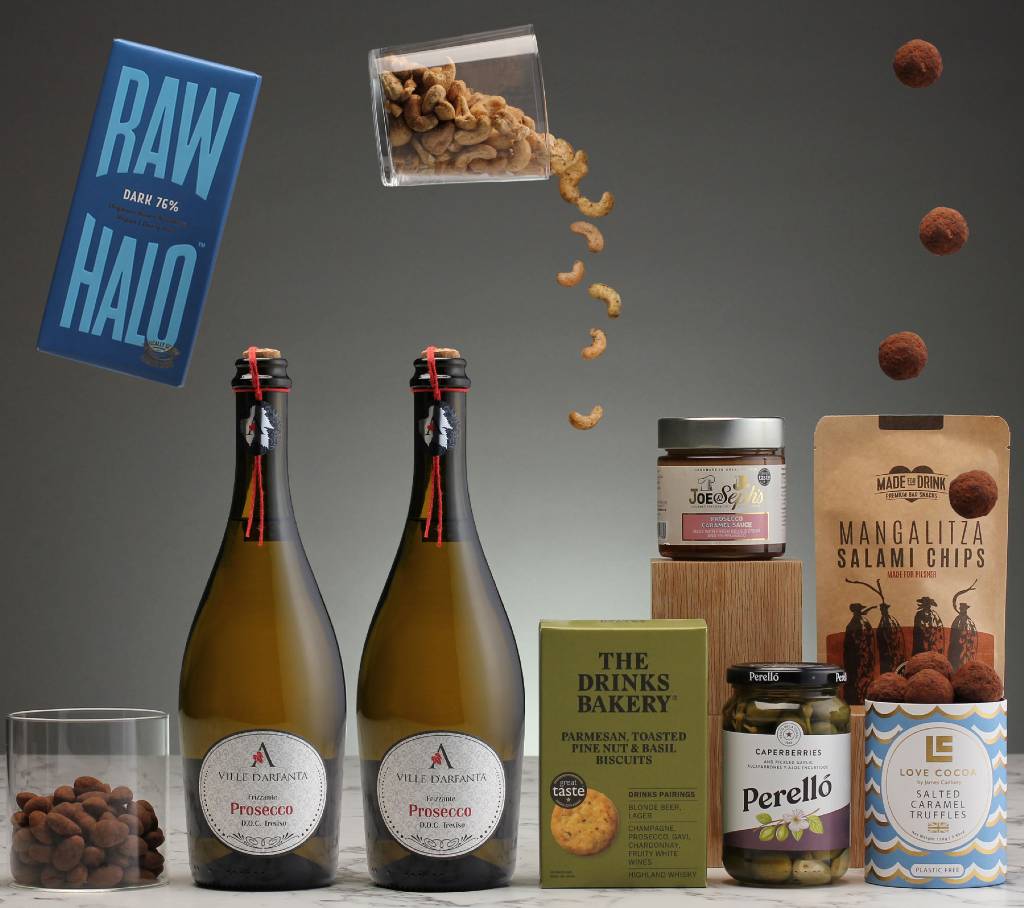 Prosecco and Gourmet Snack Pairings Hamper
Picture this: it's the long Easter weekend, it's sunny, you're reunited with your best friends and you're all feasting on Prosecco and the likes of sea salt and black pepper cashews from Chikas, Made For Drink's Mangalitza salami chips and Love Cocoa's salted caramel chocolate truffles. Pretty dreamy. Filled with gourmet, award-winning snacks, this is the perfect hamper for when you're in the mood for a picnic minus the sandwiches. Plus you can upgrade to Champagne and why not, let's celebrate being able to see our friends again!
£99.99 from Borough Box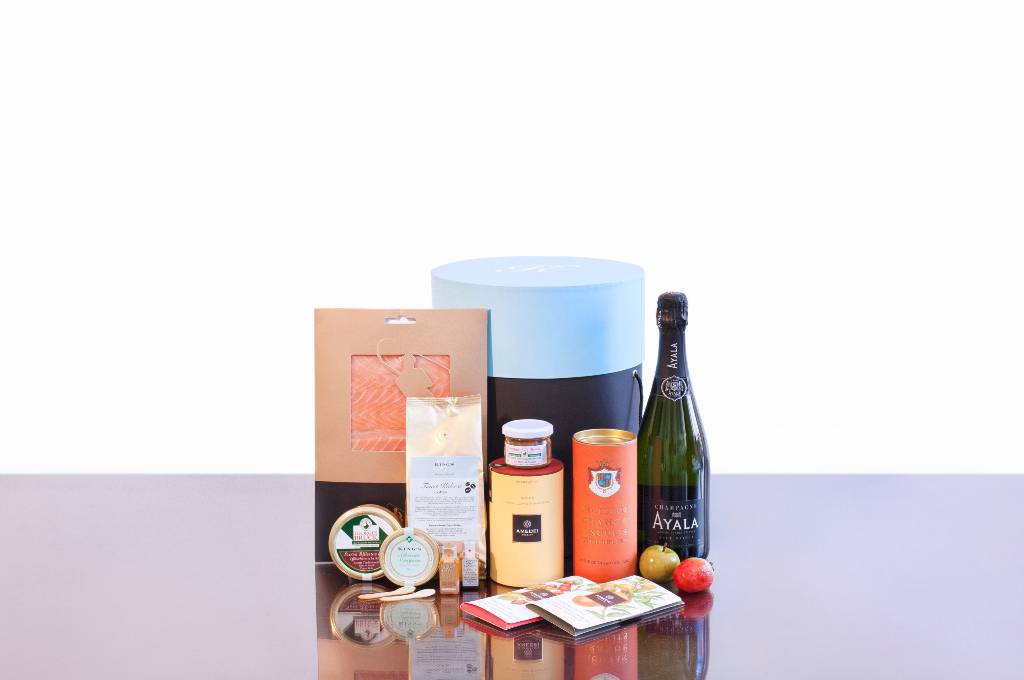 Gourmet Prince Hamper
If you're in charge of bringing the extras to the picnic then these are the most extra extras. Created by King's Fine Food, the Gourmet Prince Hamper includes Etienne Dumont Brut Champagne, King's Oscietra Caviar, Georges Bruck Terrine and Freni Marzipan Fruits. Want to build your own bespoke hamper? Customise your order with any products from the luxury range!
£175 from King's Fine Food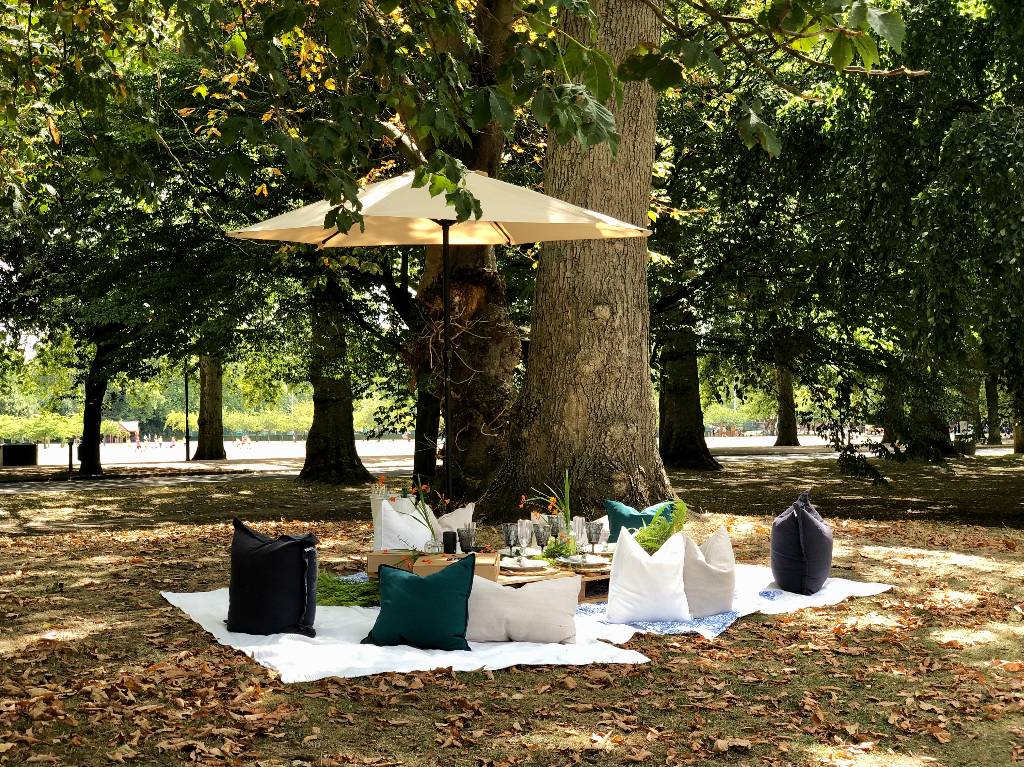 The Luxury Picnic Company
The Luxury Picnic Company doesn't just provide you with a picnic, oh no, they oversee the whole set up too. You agree a time and place to meet and they will have set everything up - think simple chic picnics with cushions, bluetooth speakers and pallet tables through to more formal events with sun umbrellas, individual place settings and crockery. Then after 2.5 hours they'll come and pack everything away for you! It doesn't get much better than that! There's a range of picnic boxes to choose from including the High-Tea & Mighty which includes white chocolate and raspberry cookies, cheese puffs, Tomato, truffle and rosemary Focaccia with Spanish ham and Sesame pork roll with fennel and homemade tomato sauce.
From £27.50 from The Luxury Picnic Company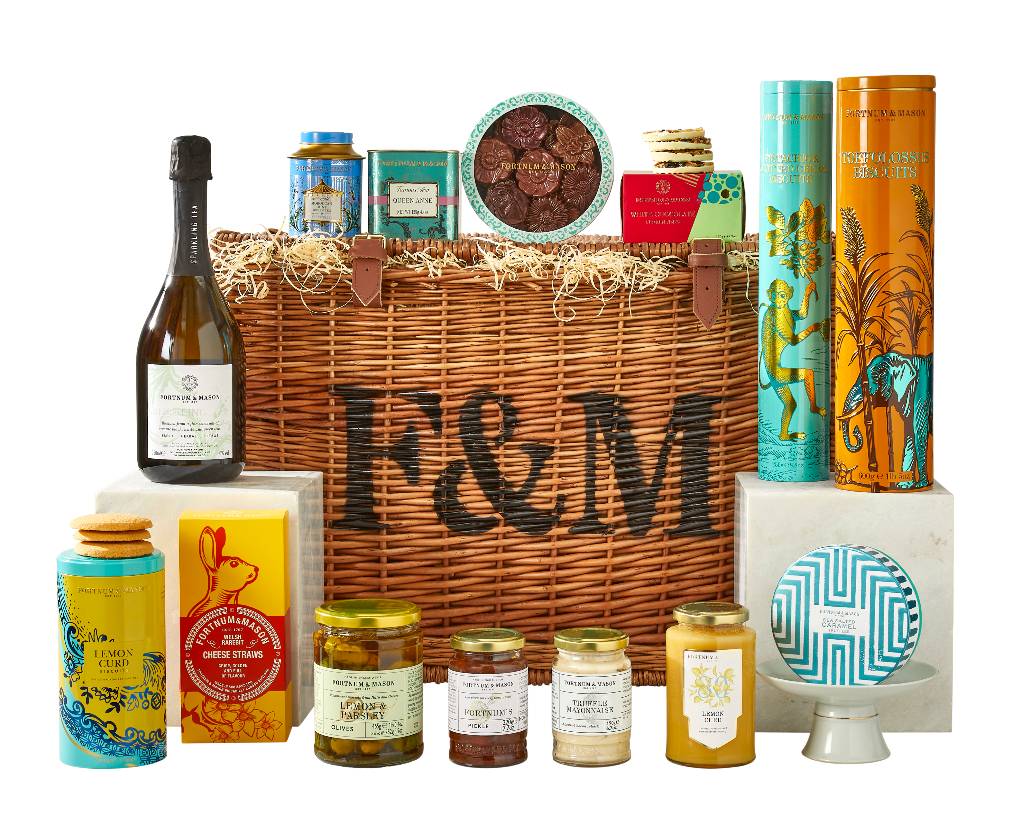 The Spring Celebration Basket
Planning a spring celebration? There's a hamper for that. The Spring Celebration Basket from Fortnum and Mason makes the ideal accompaniment to an alfresco afternoon tea. Inside the hamper, you'll find the likes of Pistachio and Clotted Cream biscuits, lemon curd, Welsh Rarebit straws, Celebration blend tea, chocolate caramels and pastel coloured sugared almonds. All you need to add is the sandwiches and scones.
£200 from Fortnum and Mason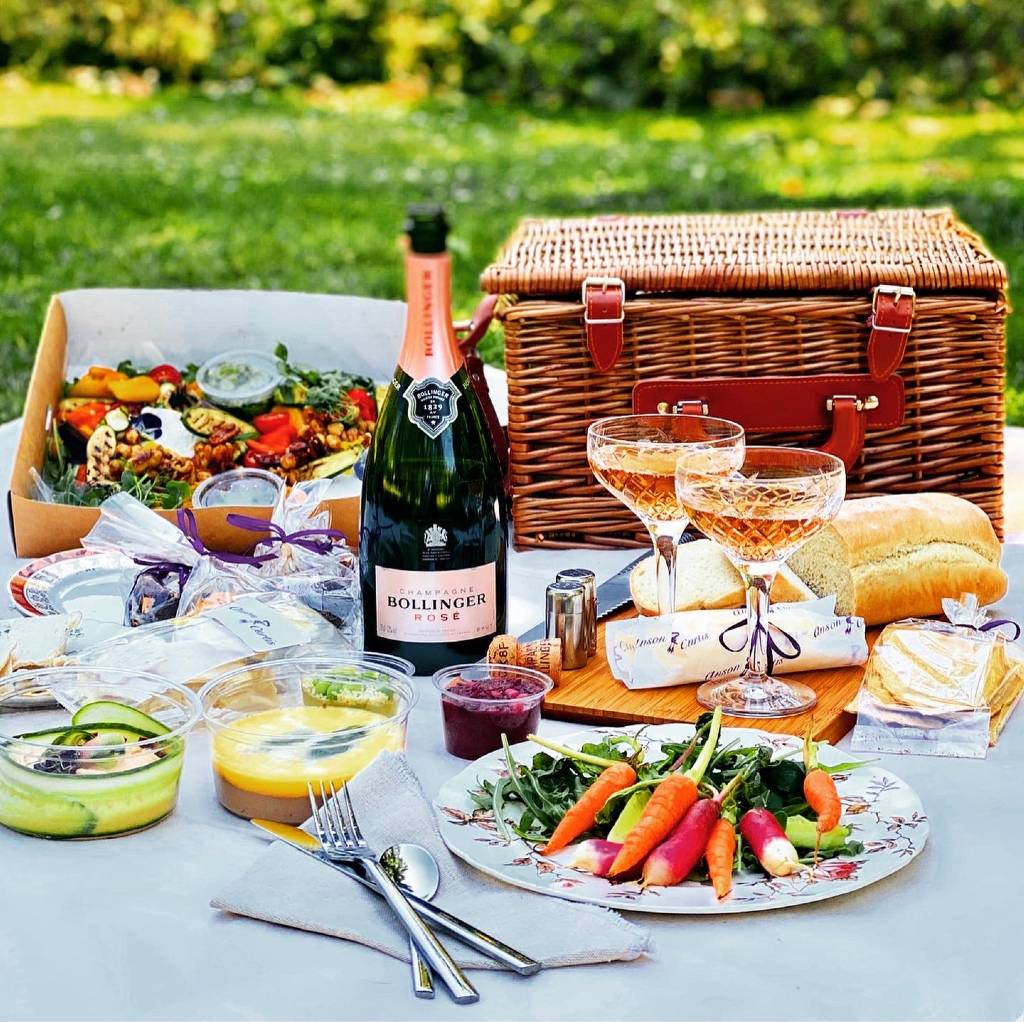 Image: @londongastroboy
Picnic In The Park Two Metres Apart
Founded in 2014, caterers, Anson & Curtis have turned their hand to delivering luxury picnics, no preparation needed, all you have to do is eat. Choose from three picnics, The Fishmonger's, The Greengrocer's or The Butcher's which includes shredded sesame chicken on a spring vegetable slaw; beetroot hummus and pea wasabi dip; leek apple and chilli sausage roll; toasted bulgur wheat with cauliflower, raisins and lemon ricotta salad and chocolate drop brownies with white chocolate drizzle. Want breakfast or afternoon tea delivered to your door? No problem, they have you covered for those too.
£25 per person from Anson & Curtis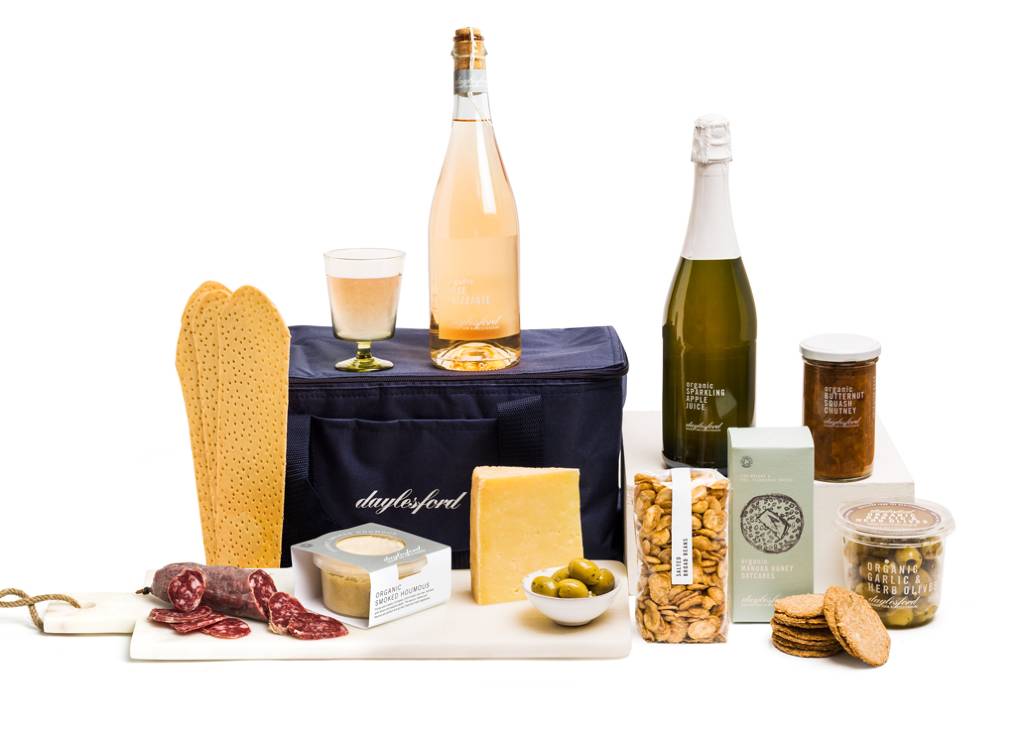 The Antipasti Hamper
Soon dates will be back on and not just via Zoom. Thankfully. And when they are we reckon this hamper will definitely impress. Daylesford have chosen some of their favourite things to eat outdoors and we're loving all of them. You'll find fried and salted broad beans, organic Cheddar from their creamery, Manuka honey and oat biscuits, sparkling apple juice and Rosé Frizzante, organic smoked houmous, organic garlic and herb olives, organic butternut squash chutney and salami. Second date here we come.
£85 from Daylesford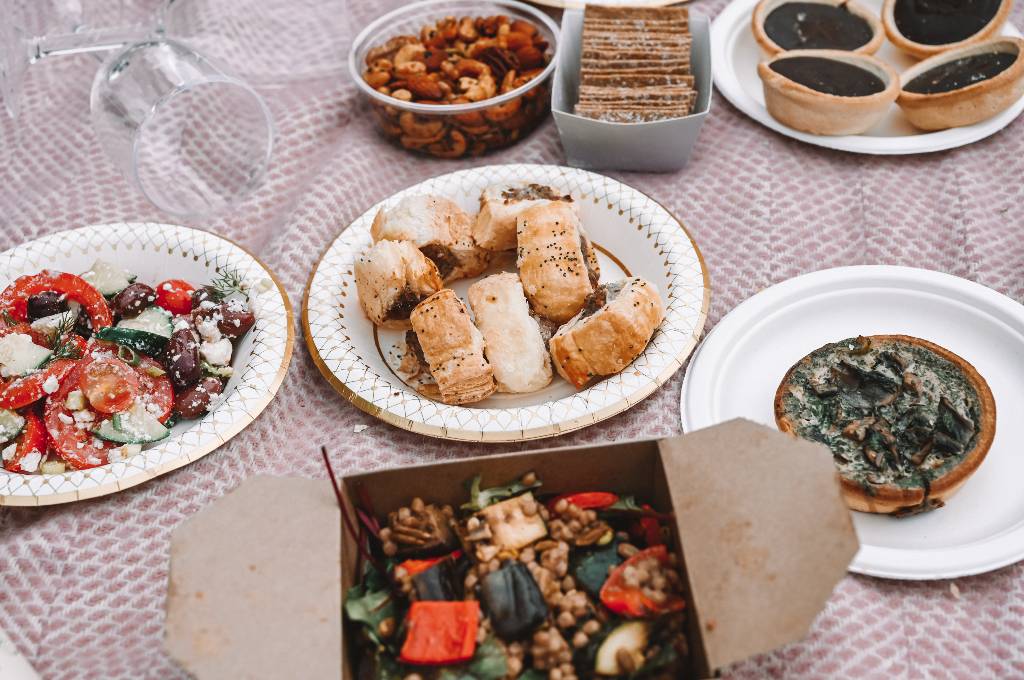 Image: Angie SIlverspoon
Chrissy's Kitchen
'We Plan, So You Can Party'. The wonderful words of catering company, Chrissy's Kitchen who also creates ready to eat picnics. They prepare, so you can eat. Locally sourced and freshly prepared the boxed picnic includes the likes of Greek salad, sausage rolls, wild mushroom tarts, spiced nuts and chocolate brownies. And just to top it all off you can add Canopy Sunray Craft Beers or wine. A chilled glass of, Chateau Olliers Romains Rose and a picnic - sign us up.
£40 from Chrissy's Kitchen