By Emily Gray
Published 02/02/2022
Imagine waking up to the distinctive call of the African Fish Eagle echoing across the valley. You go over to the window and are greeted by the smell of the bushveld, below you otters are swimming in the river, hippos breakfast on the banks and on the broad plains you can see elephants, baboons and black rhino.
You're at the start of your ten day Orion Experience - arguably the most bespoke and luxurious bush to beach safari adventure out there. Where real, raw Southern Africa meets unrivalled luxury.
The setting: Buffalo Kloof, a family-owned and managed conservancy in South Africa's beautiful Eastern Cape in an area known as the wild coast. Covering 20,000 hectares of untouched Kowie River thickets and former farmlands that have since been restored, the wilderness is home to an incredibly rich and varied habitat - featuring four different flora biomes, more than 350 species of birds, elusive animals like aardvark and blue duiker and four of the Big 5: elephant, rhino, Cape buffalo and leopard. From the forested hills and the rugged coastlines to the savanna grasslands and the sandy beaches, this dramatic vista is yours to explore. And only yours.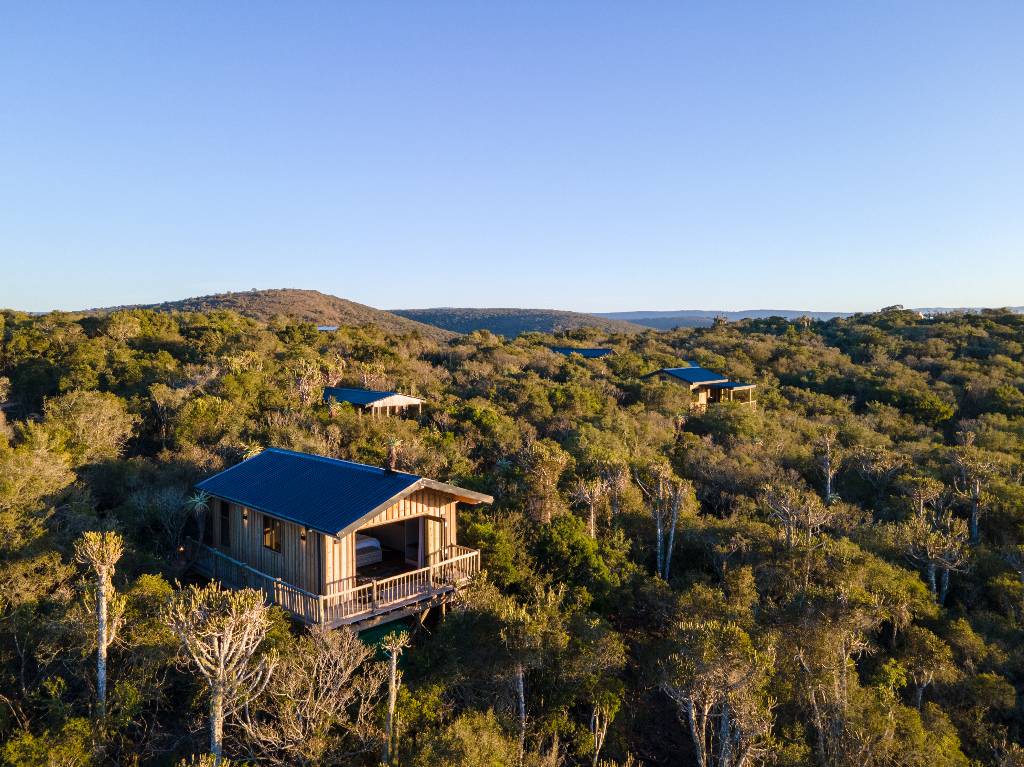 Because Buffalo Kloof is all about countering mass ecotourism with low-impact, sustainable experiences, when you book the Orion Experience, you and your party of up to eight friends, will be the only guests there. Just read that again, that's 20,000 hectares to explore between just eight of you. You have the sole occupancy of the lodges, use of the entire reserve and itineraries that are entirely tailored to your specific interests. It doesn't get much better than that.
Fill your days with guided bush walks, riding on the beach, e-bike tours, photography safaris, whale watching, helicopter rides along the coast, canoeing and daily game drives. Enjoy beers and boerewors on the braai at a scenic sundowner, quaff Champagne and wine at dinner or indulge in spa treatments. If there's something you want to do, you only have to ask, almost anything can be arranged.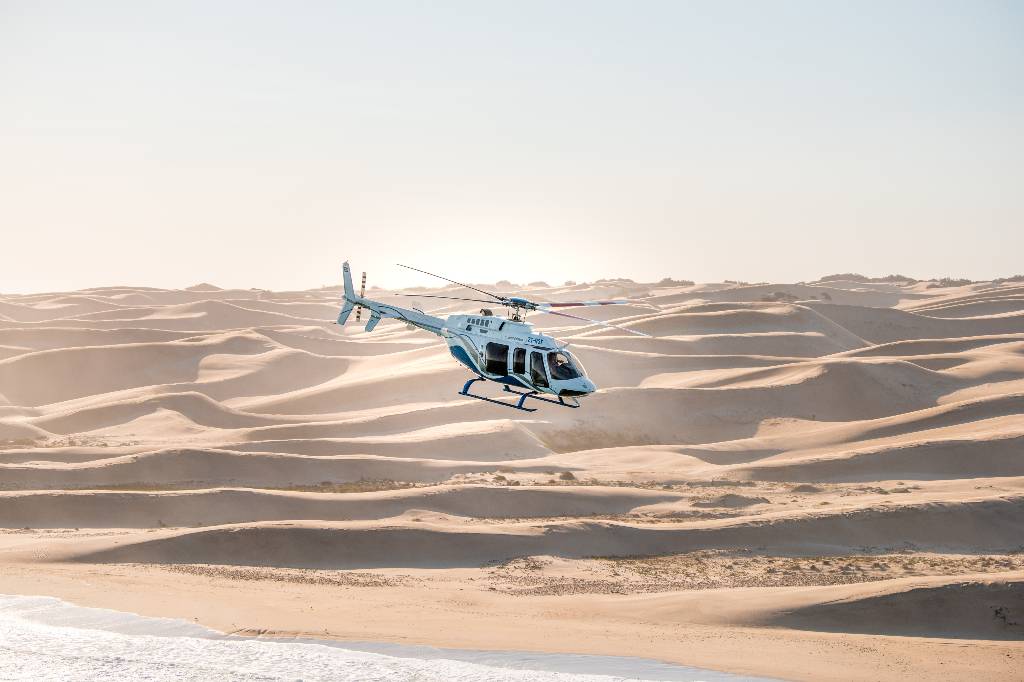 For those looking to further immerse themselves in the wildlife, there are a number of opportunities to take part in different conservation projects. Buffalo Kloof has a healthy population of both white and black rhino and guests can take part in the reserve's rhino notching programme with Dr William Fowlds. A crucial part in their rehabilitation, it includes monitoring the animals while under anaesthetic and administering medicine in a rare up-close encounter. There's also the opportunity to help research cheetahs. There are nine cheetahs on the reserve, six of which are young siblings, something that is normally completely unheard of due to cheetahs sensitivity to predators, but with no lions on the reserve there is a greater chance of survival.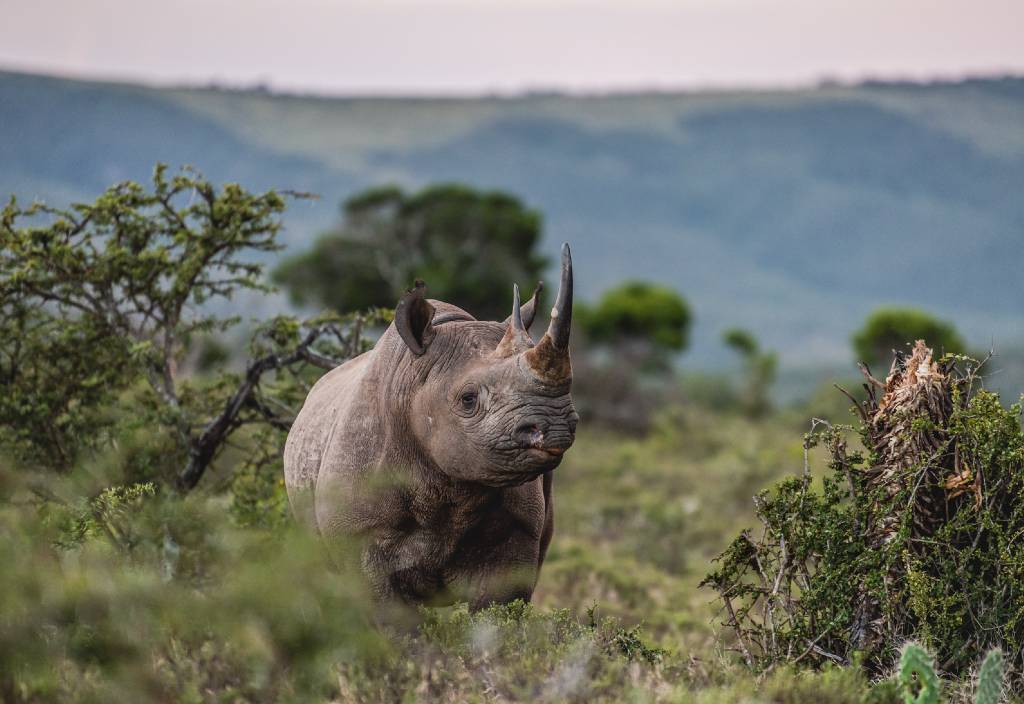 This does mean, however, that there is the need for ethical harvesting to fill the gaps that the lions would have covered in maintaining the equilibrium of the environment and the health of the ecosystem - something which is offered to guests. Buffalo Kloof's whole approach to hunting comes from a place of conservation, sustainability and integrity. Ecologists and scientists advise the number of animals that need to be harvested based on factors including carrying capacity and predator to prey ratios and these quotas are strictly followed. As are the fair chase principles of their hunting heritage, meaning canned hunting and shooting from vehicles are prohibited, instead they follow a 'walk and stalk method'. Nor are they trophy hunting, all the meat is given to the 50 reserve workers and their families so that more of the reserve's capital can be put back into conservation.
Whatever you choose to do, the activities are conducted in a way that doesn't impede nature so you can travel with purpose and truly experience Southern Africa in a way like never before.
With such a low guest to land ratio, there are just twelve bedrooms on the entire property across two lodges: Acacia Lodge and Spekboom Bush Camp.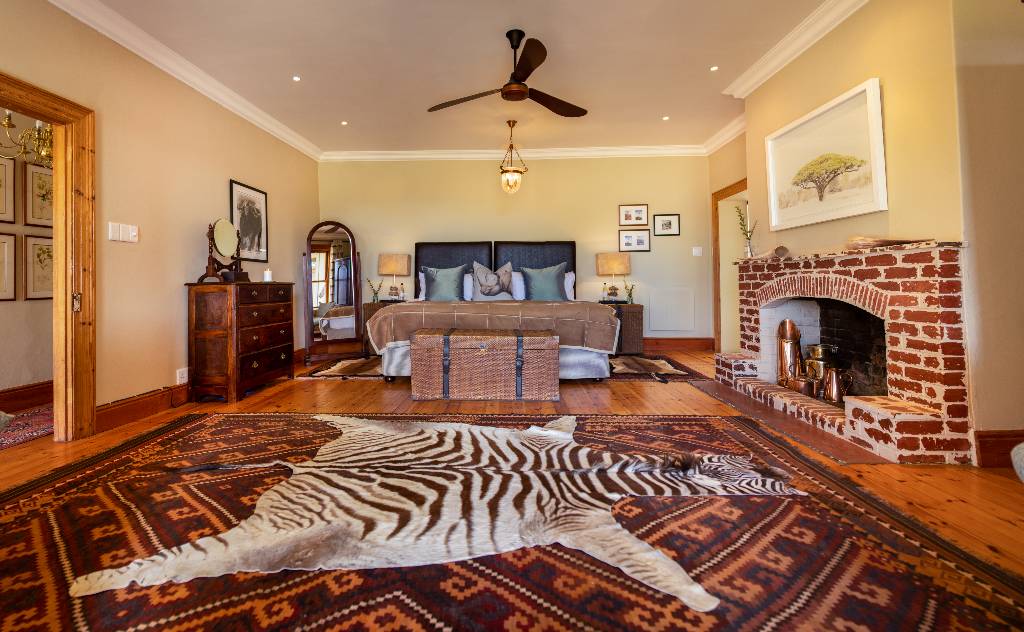 Start your stay at Acacia Lodge. The original farmstead, located near the conservancy's entrance has a wide verandah where you can sit and drink in the expansive views of the surrounding hills and watch the giraffes and white rhino grazing on the doorstep. The lodge comprises four bedrooms with extra king size beds, private outdoor showers and a big farmhouse kitchen - where guests can join the chef in their preparation of the bespoke menu.
Overlooking the Kowie River, Spekboom Bush Camp features eight ensuite bedrooms, two outdoor showers, a spacious living and dining area with a fully stocked bar, swimming pool and a firepit to gather around when stargazing. In a bid to keep the lodge's footprint light, Spekboom Bush Camp operates on solar-generated electricity and hot water comes from specially designed boilers that make use of wood from alien plants which are removed as part of the habitat's restoration.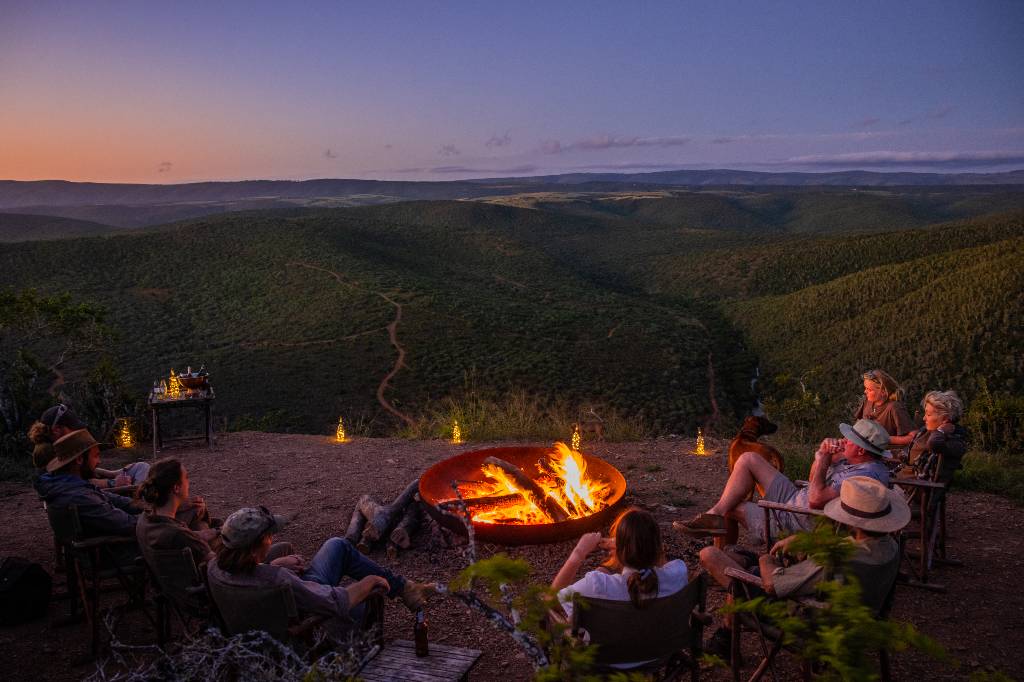 Both lodges are equipped with DSTV, mobile phone signal and WiFi - so if you so wish, you can maintain contact with the outside world, but honestly? If we were to find ourselves in such a remarkable place as Buffalo Kloof we would dive at the chance to completely disconnect and forget the rest of the world.
Ready to get off the beaten path and see southern Africa with a new perspective? The Orion Experience can exclusively be booked through travel concierge, Boundless Frontiers. Founded by game rangers Dewald Botha and Blake Fine, Boundless Frontiers is dedicated to creating personalised African adventures. With you every step of the way from the planning through to the trip, they will devise the adventure of a lifetime.
The Orion Express is priced at a fixed rate of $200,000 +VAT USD for ten days and up to eight guests.