By Emily Gray
Published 11/12/21
Every year London's hotels deliver the best collection of Christmas trees, from those that are traditionally decorated with twinkling lights, to contemporary takes and designs by renowned artists. And this year is no different, here are seven spectacular trees which are sure to give us all a little festive cheer, which after the year we've had, we could all do with: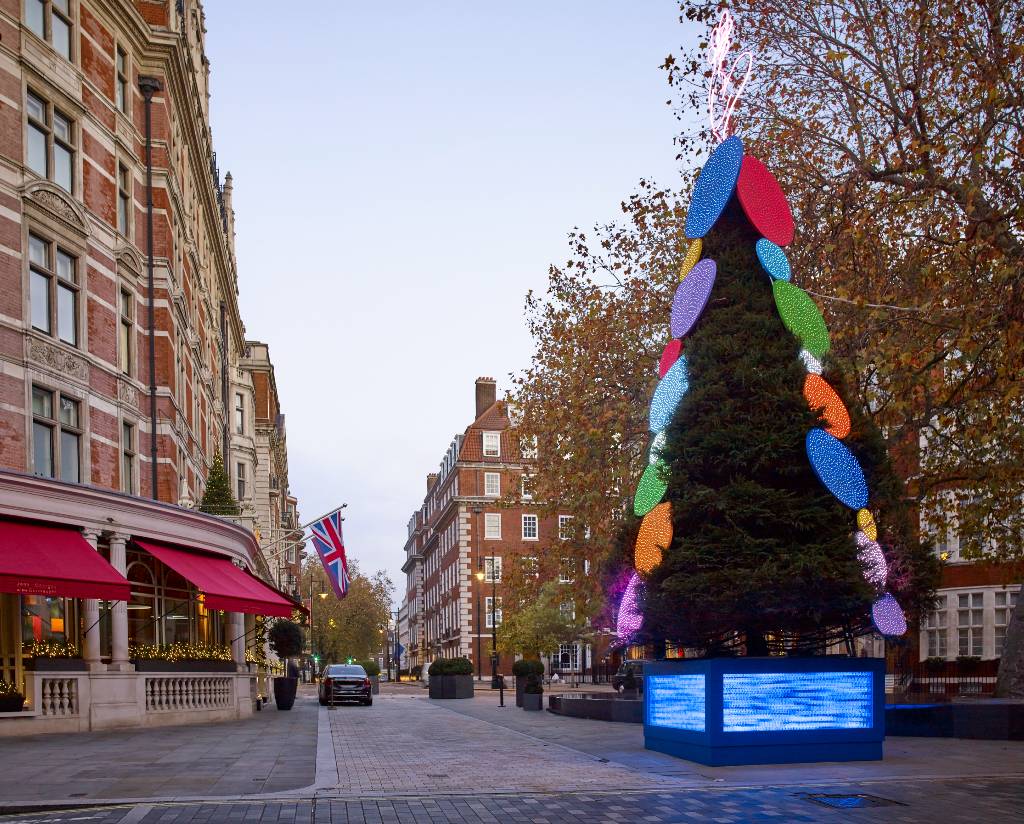 The Connaught: The Connaught Christmas Tree 2021 by Annie Morris and Idris Khan OBE
The Connaught's magnificent British sourced Nordmann Fir tree stands an impressive 9 metres tall and has been strikingly designed by artist duo (and friends of the hotel) Annie Morris and Idris Khan OBE. Morris' most recognisable work, her Stack sculptures are irregular spheres, precariously stacked upon each other to create columns before being painted in vivid hues and three interpretations of these surround the tree whilst a 2D version adorns the tree. Each colourful sphere is individually lit - some with more than 1600 lights and represents that whilst we might be in uncertain times beauty and positivity can still be found in difficult and dark times. When it comes to Christmas trees we don't tend to give much thought to the base, and yet this supporting act allows the tree to shine; so Khan has focused on the base of the tree designing it as a support to Morris' sculptures and representing love and support at the heart of relationships. Engraved on the two way infinity mirror surrounding the base is Merry Christmas translated into over hundred languages to represent the importance of all faiths and cultures coming together.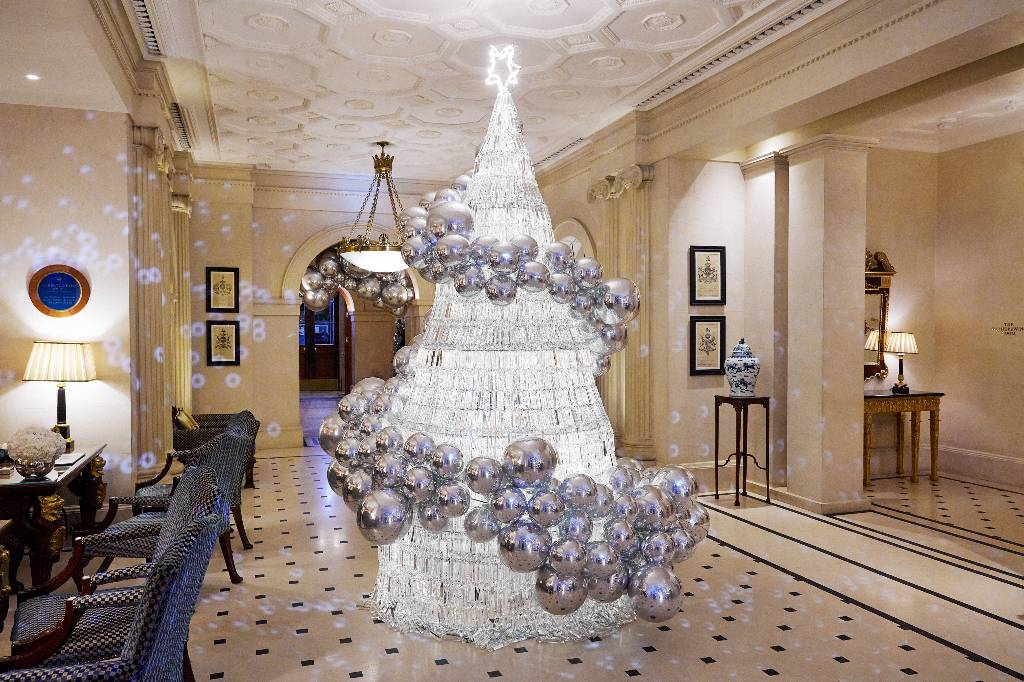 The Lanesborough: Be Bright & Sparkle
Designed by renowned Event Imagineer, Tony Marklew, The Lanesborough's festive decorations this year represent what will hopefully, all fingers crossed, be a bright and sparkling 2022 for all. Casting magical sparkles across the hotel are thousands of faceted crystals whilst their brightly shining Christmas tree is surrounded by reflective silver orbs, encouraging everyone to take a moment to reflect.
Image: Paul Plews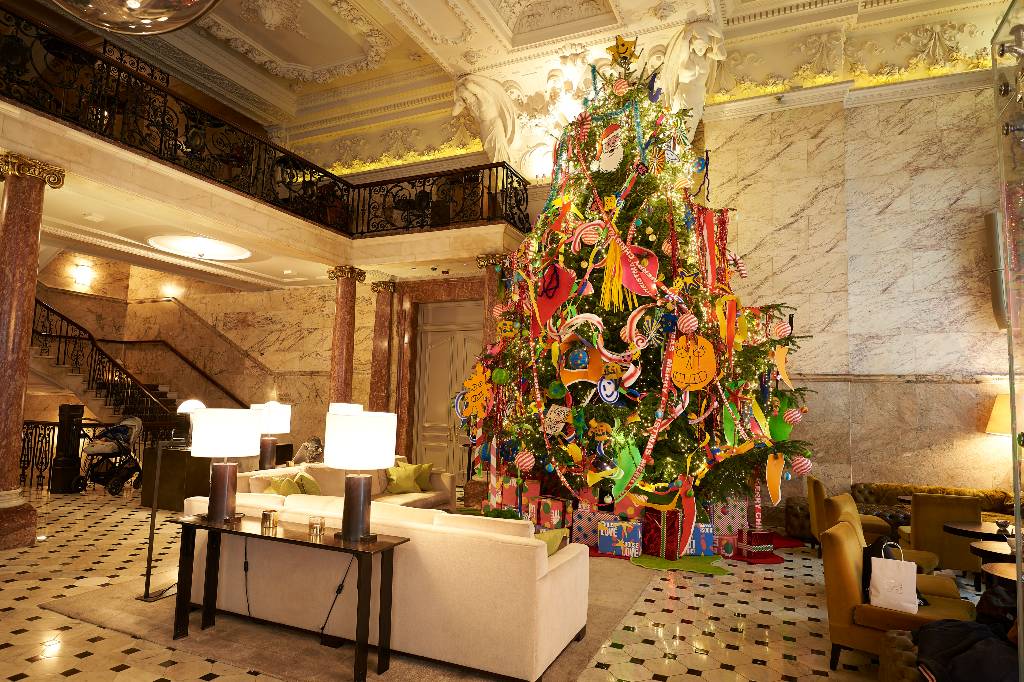 The London EDITION: Ed Curtis x CHOOSE LOVE
Quite possibly the most fun Christmas tree you'll come across, The London EDITION's Christmas tree for 2021 is the British artist, Ed Curtis' 'art attack fantasy'. The larger than life take on traditional decorations includes giant presents, smiley faces, stockings and wrapping-paper-esque tinsel. You can't help but smile when you see it. Created in collaboration with the charity CHOOSE LOVE which helps refugees and displaced people, the tree's base features CHOOSE LOVE imagery and a portion of the proceeds from the accompanying Choose Love cocktail will be donated to the charity. So go and admire the tree, order a Choose Love cocktail and do your good deed for the day!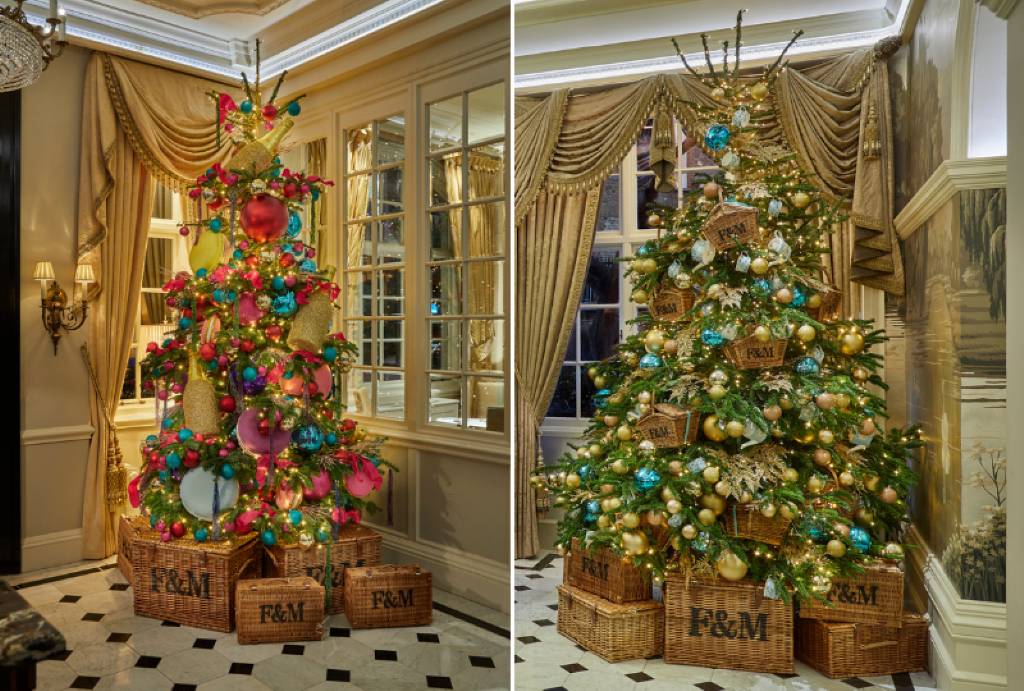 The Goring: A Naughty & Nice Christmas
Why have one tree when you can have two? Especially when they are created by Fortnum & Mason. This year's theme at The Goring is Naughty & Nice. In the Naughty corner the tree is decorated with oversized ribbons, frivolous Champagne bottles, macarons and all the indulgent treats you can find at Fortnums. Over on the Nice tree you'll find 'sugar and spice and all things nice' like Fortnum's delicate teacups and iconic hampers.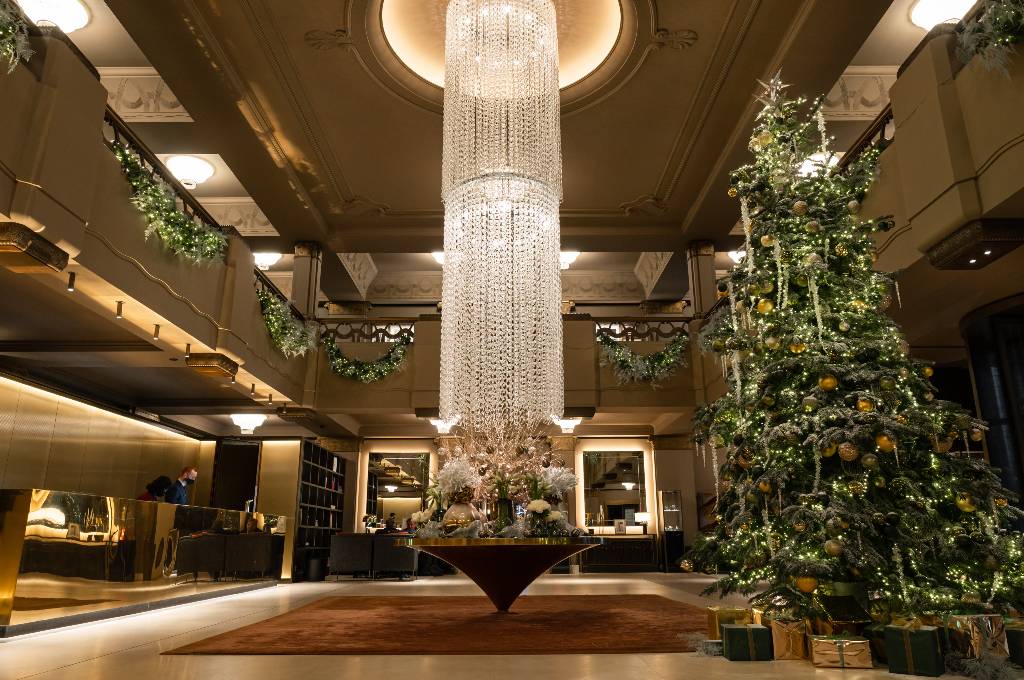 Hotel Cafe Royal
Escape the crowds in Piccadilly Circus and the Instagrammers taking photos of Regent Street and head to Hotel Cafe Royal's lobby. Here you'll find an impressive 19 foot Christmas tree decorated with glittering lights and shimmering baubles surrounded by green foliage garlands adorning the mezzanine created by florist Jamie Easton. And look out for the adorable family of bears who have made their home next to the fireplace.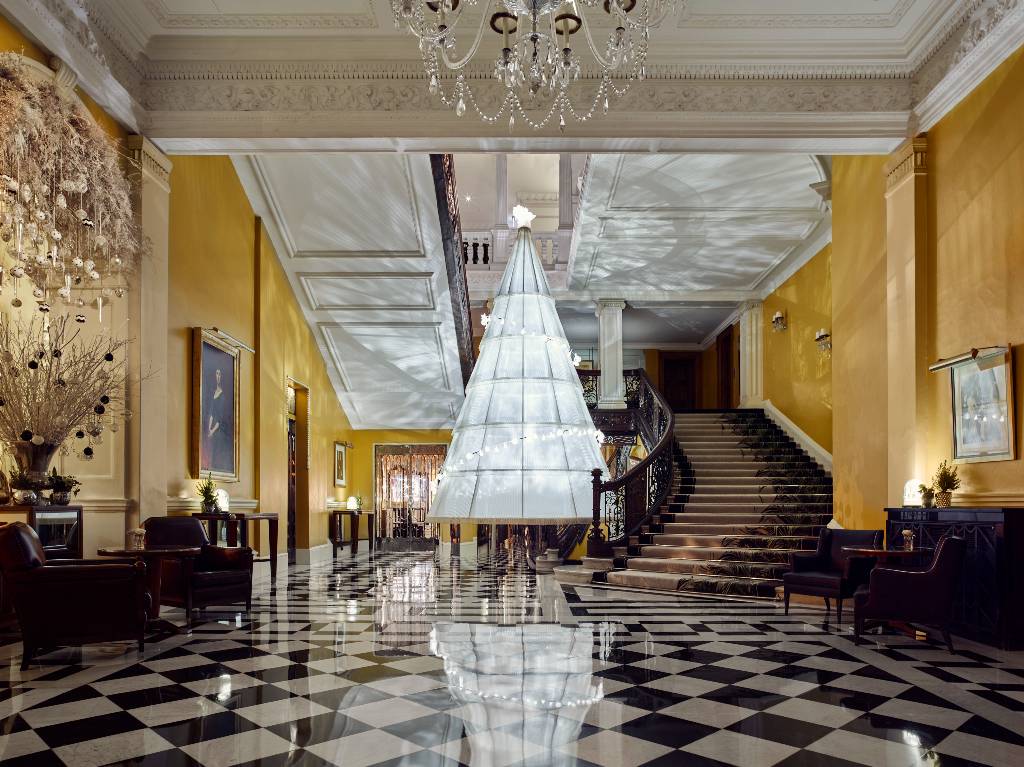 Claridge's: The Celestial Snow Globe
This year, Claridge's is throwing their hat into the ring of most spectacular Christmas trees with their futuristic and unique take created by Kim Jones, Artistic Director of the Dior men's collection. Inspired by snow globes, the enchanting tree is illuminated with magical sparkles and snowflakes travel across the surface. Giving a nod to Dior, 'floating' baubles reflect Dior's iconic motifs including stars – Monsieur Dior's celestial good-luck charm. Whilst holographics are mixed with toile, which not only recalls the emblematic toile of the Dior Haute Couture Ateliers but also creates magical visuals across the famous staircase and lobby.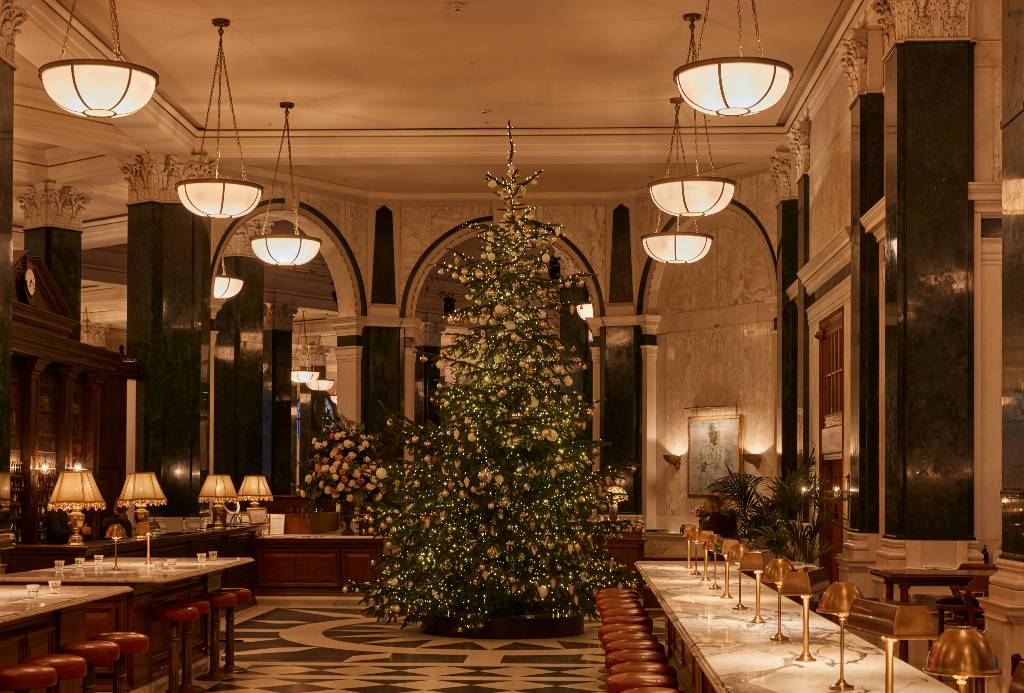 The Ned
How many fairy lights do you think it takes to cover a 22 foot British-grown Premier Nordman tree? It's a staggering 6,500. And how do we know? Because that's how many The Ned's in-house florists, Grandiosa used to create their stunning tree, along with over a thousand gold, ivory and champagne baubles and golden leather leaf ferns. Joining the tree is a giant halo wreath - it's the largest wreath in the City and will twinkle above The Nickel Stage, where live music will be performed every day throughout December.