By Elizabeth Greatrex
Out of every room in the home, many will agree that the kitchen is by far the most important, the most central. Cooking and dining are just one element to this essential social hub that keeps the family as together as one. The kitchen is where everyone comes together to relax, to entertain, to share stories, to disagree, to debate, to confess, to cry, to laugh, to love, to fix problems, to relate to one another. Whatever the occasion, the kitchen sees it all. It is the beating heart that keeps the vessel of the home alive and its occupants united.
Times have changed since the dining room was thought of as the central room in the house. Many kitchen and dining areas now morph into one, putting extra pressure on kitchen designers to create models that favour intelligent, beautiful design just as much as functionality. Trends and styles for modern kitchens are ever-changing, ever-evolving, and those looking to develop their kitchens are ever-demanding. It takes a talented, experienced designer with a wealth of ideas to keep up with the fierce competition out there, let alone lead the industry.
When meeting with Charlie Smallbone to talk about his successful new kitchen design venture Ledbury Studio, it immediately became clear that he is one of these individuals through and through. Even after a career spanning 40 years in which he founded and ran bespoke high-end luxury kitchen furniture company Smallbone of Devizes, Smallbone has shown no signs of stopping. He expresses his approach to Ledbury Studio with passion, clearly motivated to provide his clients with everything they desire in a modern kitchen: the best quality of function and the best quality of life.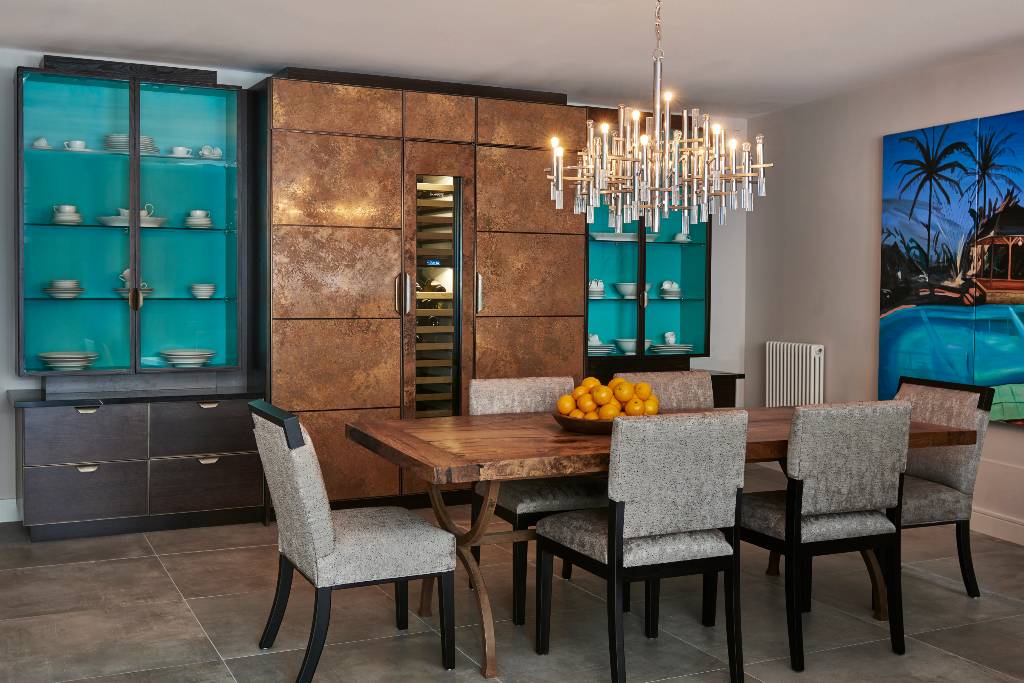 "What we look at these days is the relationship of the functional side of the kitchen, but moving that into a living environment. How people live in their homes, what everybody does. Everybody has different ideas, so for this venture we're really looking at the relationship with the individual clients. Our role is really teasing those ideas out of them and then interpreting it into a coherent, cohesive sort of scheme. We're on a mission to try and understand what our clients want."
A keen foodie himself, Smallbone loves to experiment with cooking, and sees it as a 'creative and relaxing medium'. His passion for good food, well-honed understanding of what a kitchen really means to people and the part that it has to play in their lives begun in his youth, and can be seen in his design approach to Ledbury Studio. Growing up in the 60's, he enjoyed learning traditional recipes from his mother, and would also spend time eating and socialising in his friends farmhouse kitchen. A setting which would later inspire him to start buying and renovating antique furniture such as farmhouse dining tables and cupboards for the kitchen and for dining.
"It was a warm and welcoming atmosphere, there was always fresh food – cakes and breads and perhaps a ham or something similar. His family had this wonderful kitchen space with this big table and everyone used to congregate there and just spend time "chewing the fat" as we used to say. Hours could pass just chatting away."
The Ledbury Studio Showroom features Smallbone's latest kitchen design, The Metallics Collection, and can be found in a charming little mews in the heart of Notting Hill. Originally presented at the Chelsea Flower Show as a conceptual model, 'Elemental', in May 2018, an incredibly positive response spurred Smallbone on to set up the company. Only a year and a half later, business is booming.
Hand-crafted by accomplished artisans, the kitchen is exceedingly stylish, cool and clean-cut. Built to look contemporary with assets like minimal brass door frames, the design is beautifully modern, yet there are direct nods to the past with the use of traditional design details such as refined Georgian-style cock-beading. Merged together, this kitchen's appearance is remarkably unique. There isn't anything out there quite like it.
"We've always loved art deco. And there's always a modern take on art deco that's involved in a lot of what we do. It's just really built up from a lifetime of being involved in buying and selling great bits of furniture, and talking to people about what they like and who they are and how they want things to work, so the style is kind of organic."
Visually, the use of original materials are completely mesmerising: copper panels that have been welded into an aged-brass frame with cast-brass handles; and warm oak veneer contrasted with cool quartz. But what makes this collection so special is the detailed practicalities that are included within these stunning designs. The pantry, for example, is packed with storage options. The sleek shelves, draws and compact countertop ensure that there is a place for every small appliance, packet or jar, every bulky, awkward pot and pan. Everything has its place.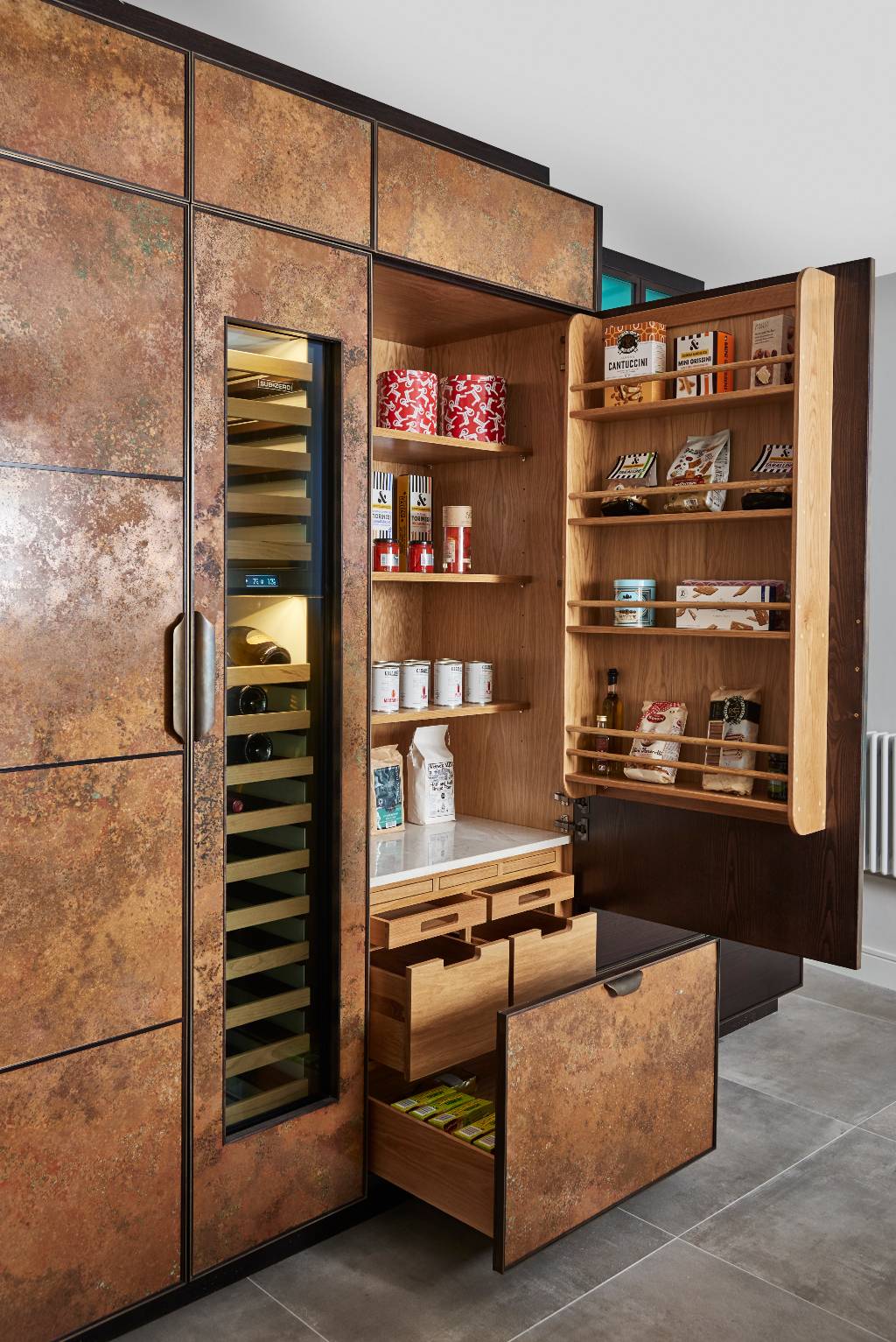 There is a calming earthiness to this collection, which somehow allows one to feel both at home and amongst nature. It's an uncomplicated, minimalistic space, but with lots of character. The ideal setting to cook, socialise and entertain in. Talking to Smallbone about his experience with sourcing materials from different areas around the world, it becomes apparent that he really values quality of material, and quality of product, and that this is at the root of everything he creates for his clients.
"We've been all around the world. Years ago I went to Brazil and we went to a gemstone quarry. We were able to take the blocks, and with modern technology we were able to fabricate the blocks into slabs. Then we've done things like lapis from Afghanistan. This table right here, in fact, is a single piece of English walnut that came out of Sudeley Castle in Gloucestershire. It came down in a storm in 2012. These types of materials, you have to treat with a lot of TLC, you have to deal with them very sensitively. We go and find things, and we spend a lot of time fashioning these materials into beautiful design."
The strength of Ledbury Studio's designs and the beauty of materials truly speak for themselves. It's no wonder that Smallbone and his team have had a great influx of clients since their inception. Forward-thinking in his approach and in terms of design, Smallbone hasn't tried to mimic what is already out there, but has sought to create something completely unique, and meet the individual needs of every client that comes to him.
The future looks bright for Charlie Smallbone and Ledbury Studio. We'll be keeping our eyes peeled.
You can too here.