Looking to diversify your investment portfolio? One market that should definitely be on your radar is luxury watches. Right now, it's seriously hot and there is profit to be made.
Why is the watch market booming?
Along with the rest of the world, the watch industry was affected by the Covid-19 pandemic. Manufacturing plants being closed and reduced staff hours meant that production decreased. Meanwhile, consumers and investors who had disposable income were looking for new ways to spend their money, since international travel and entertainment were of the cards. The demand for luxury goods was increasing enormously just as the supply was declining and, of course, scarcity creates exclusivity which in turn, pushes up the price. So much so that the Federation of the Swiss Watch Industry reported that: 'a positive performance in the fourth quarter produced the best-ever annual results for the sector, at 22.3 billion francs, 2.7% higher than in 2019.'
And this huge demand has only continued. In a statement to Yahoo Finance in 2021, Rolex said: 'Our current production cannot meet the existing demand in an exhaustive way, at least not without reducing the quality of our watches – something we refuse to do as the quality of our products must never be compromised.'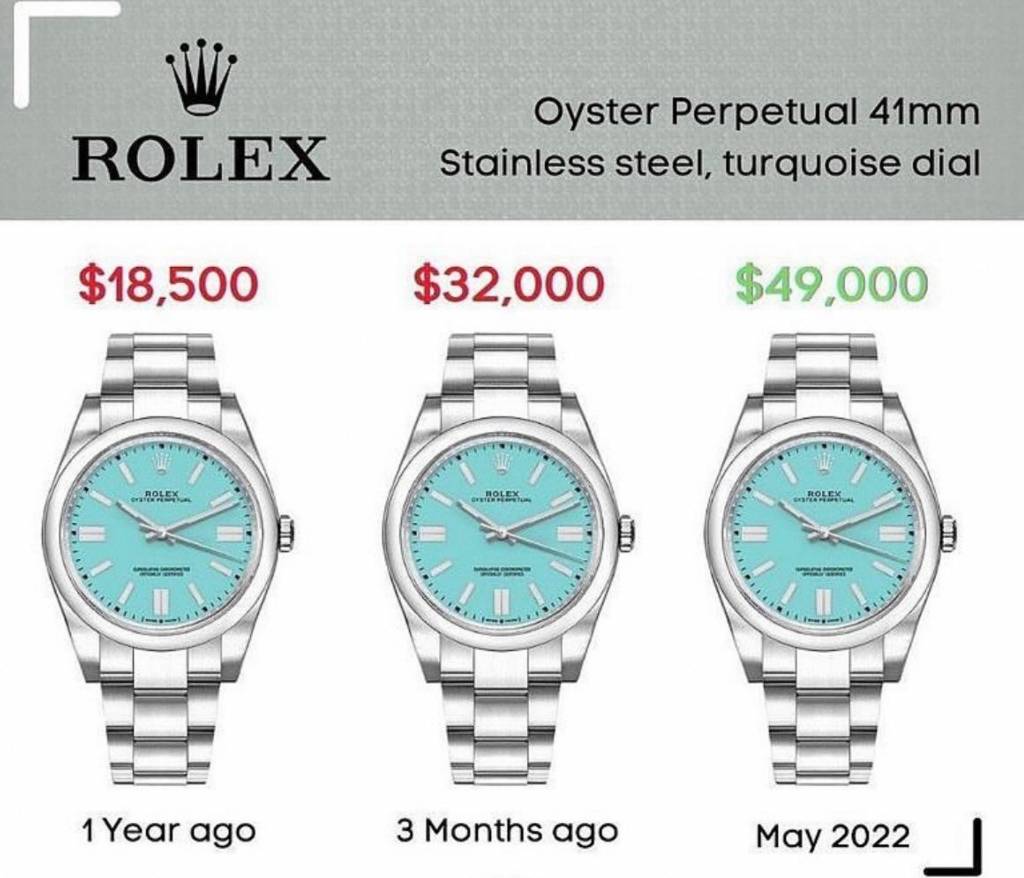 But it's not just a demand for new, limited-edition pieces. The pre-owned market has grown massively as collectors and investors look to get rare watches that are no longer produced. In the past, pre-owned watches were obtained from private dealers but with the rise of social media and online shopping, the interest and ability to buy pre-owned watches is becoming increasingly easy and popular. In fact according to McKinsey's June 2021 report 'Pre-owned watch sales are expected to grow 8-10% annually from 2019 to 2025, increasing from $18 billion in 2019 to $29 to $32 billion in 2025.'
Social media is also responsible for introducing new audiences to the luxury watch market as accounts dedicated to showing the luxury timepieces appear on Instagram and Tiktok. Notably, more Millennials and Gen Zs are looking to buy watches. As chief executive of Audemars Piguet, François-Henry Bennahmias said:
Even the younger generation love watches. They love the tradition, the craftsmanship, the sustainability.'
And women, who until recently were overlooked in a market traditionally dominated by men, are also becoming interested in luxury watches to buy both as collector's pieces and investments, much in the same way as they'd invest in jewellery, art or bags. New editorials such as Dimepiece created by women for women provide a gateway into the market for those who are interested but might not know where to start.
Why should you invest in watches?
Watches can be one of those investments which is both enjoyable and profitable. There's something to be said for having a real interest in the history and the craftsmanship of the timepiece whilst also knowing that it's retaining or increasing in value, especially if you go for the likes of Rolex, Phillipe Patek, Cartier Van Cleef & Arpels or Audemars Piguet.
Writing in their 2021 Clair (Comprehensive Luxury Appraisal Index for Resale) Report, Rebag wrote:
'Three major brands — Van Cleef & Arpels, Rolex, and Cartier — stand at the top of the chart. Van Cleef & Arpels pieces retain an average value of 95% of their retail value, with items from the iconic Alhambra collection proving to be the best investment. Rolex timepieces do very well, currently retaining 82% of their retail price. Watches and fine jewellery by Cartier averaged 74% of their retail value on the resale market.'
As an example, a pre-owned 18-karat-gold Rolex Cosmograph Daytona with a green dial sold for $52,000 in 2021. In February of 2022, the same model went for $96,000. That's definitely not something to be dismissed.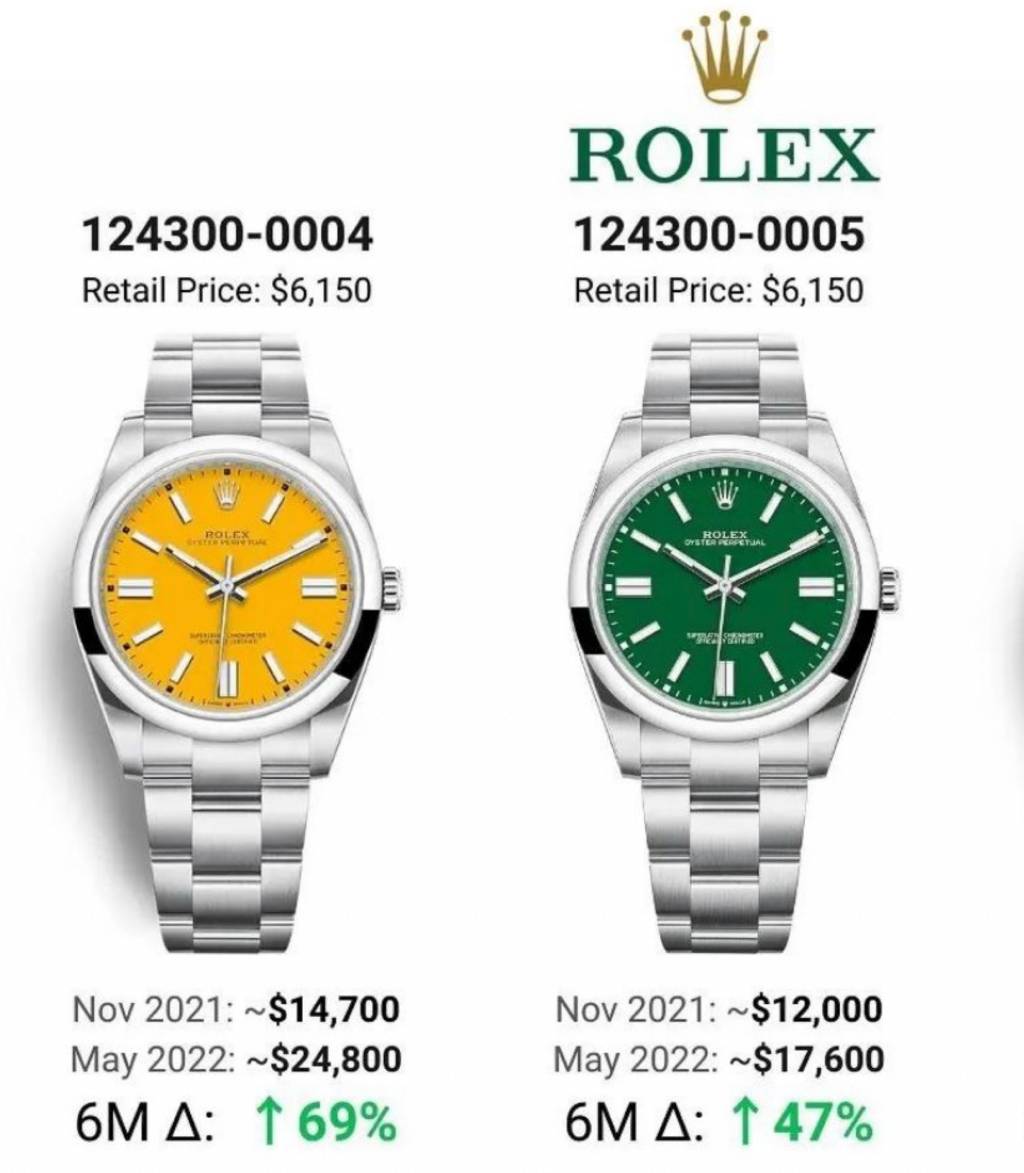 How can Listique concierge help?
As with any investment, there are certain risks involved, from Frankenwatches (watches that are cobbled together not necessarily from fake parts, but from parts of different models) to dealers reserving the most exclusive watches for particular customers. And that's before you even get into understanding the terminology of horology and what you should be looking for. However, at Listique, our concierge service has access to trusted partners within the industry who can help you navigate this new area of your portfolio, ensure you're not buying from unscrupulous traders and help mitigate potential risks.
Interested? Submit an enquiry here.