By Elizabeth Greatrex


I will always remember as a child, asking a teacher what it took to have a successful career in the arts. She told me that unless I wanted to teach, that I should forget it, because it wasn't even worth trying. That the chances I would succeed were too slim to even bother. Although my school was supportive of those who wanted creative careers, somehow I was only one of four people who took GCSE Drama, and I remember having more than one friend that forever regretted choosing Chemistry over Photography, because her parents wanted her to. We all know that academia is the safer choice. If it's what you are passionate about, of course, it is perfect. With a career as an accountant, or a doctor, you will never be out of a job. But what about that burning desire inside of you, to paint, to design, to act, to sing, to dance, to compose, to create? Artist Bilah Greenberg is one individual that knows this feeling all too well, she followed it from the very beginning of her life, and has never looked back. Bilah has a lifetime of artistic and professional experience behind her, having thrived in many jobs, a few of which include becoming Lord Peter Eden's Private Household PA, Publisher Felix Dennis's Interior Designer, and initiating three creative companies Bilah Greenberg Interiors, The Hampstead Smock Company and Shade-To-Measure. Having had her fingers in many pies over the years, I believe that Bilah Greenberg has perfected the balancing act of life that every artist searches for. Having hustled for years, making things, creating, working, living and loving, she's made life work for her, on her terms.
If you were to ask Bilah the same question I asked my teacher all those years ago, I know she would tell you to go for it.
I met Bilah Greenberg on a late morning in August, at her stunning North London apartment. Bilah herself looks extremely chic, and has a warm, inviting air about her. She is comfortable in her own skin, and the calming ambience of her home reflects her personality well. I, too, immediately felt relaxed in her bright, open front room, which is tastefully decorated with plush furnishings such as cushions and tissue box covers that she herself designed. The shelving unit is filled with an extensive collection of rock and roll vinyl, and on her wall hangs a striking Ronnie Wood painting of the Rolling Stones, that one naturally comments on when seeing it. Bilah lights up when I ask her about the painting, music is clearly a big passion for her.
"Yes, we've got two Ronnie Woods. I'm a big music buff and I buy vinyl. I was brought up in the music world. I know my stuff when it comes to music."
Bilah's love for music runs in the family. Having been brought up by a father that was in the music business, it is understandably a medium close to her heart. But her father wasn't the only creative influence early on for Bilah. Her mother shares her passion for creating, having studied fashion at the same notorious University she did, Central St Martins. Bilah reveals to me that during her early years, she and her family were surrounded by artists.
"There were always people in the house that were doing light shows on the wall, or making things, or painting. It was just always around me. So for me, it was just a natural process to start making things."
As it turns out, "making things" is what would bring Bilah's career a lot of success. Her Interiors Company is a bespoke service that has been on-going for years, offering Bilah's services to private homes, where blinds, curtains, sofa covers and small oddities such as tissue box covers and window seat covers are made to bring each room to life. Since leaving Central St Martins at aged 23, Bilah has travelled the world with her company doing interiors for High-Net-Worth Individuals, and doing complete renovations of homes. Her past projects are impressive, one of her most significant ones lasting five years when Bilah took a team over to Mustique to completely renovate the interiors of Mandalay, David Bowie's majestic holiday home that was bought by publisher Felix Dennis. When Bilah mentions Mandalay, my mind immediately goes to the beautiful estate of Manderley in Daphne Du Maurier's fictional Gothic novel and film, Rebecca. I'm expecting big things, and Bilah's Mandalay certainly does not disappoint. She shows me the photographs, and I'm astounded at the beautiful designs, colour schemes and choice of furnishings. Every room is popping with colour, and sparkles with the magic of Bilah's artistic talents.
Bilah clearly has an abundance of experience behind her. She's been around the world, working hard, making connections and most of all, doing what she loves. She now spends most of her time here in London, surrounded by family and friends, while creating in her studio at her Mother's house across the road. The freedom Bilah seems to have in her working and personal life is glorious, and inspiring.
"It's just been an on-going thing. It's a way to make a living. I work for myself, which is so much better. I can do my own thing, I've got my own time."
This studio is not only the base for her interiors company, but her other projects too. The Hampstead Smock Company is an incredibly personal pursuit for Bilah. A Smock was her Mother's daily choice of outfit, while looking after six children, cleaning, cooking, sewing and painting. The smocks are not just for practicality, but for fashion purposes also, to be worn with pride. In my eyes, they represent the love between family and personal beginnings, and the idea of juggling a passion for creativity with the responsibility to look after the ones we love. The Smocks are modelled by Bilah's daughters, named after the central women in her life, and designed with them in mind.
Shade-To-Measure, also waits in the wings at Bilah's studio, an inspired business idea, ready for its moment to shine. As it's name would suggest, the business is bespoke, an extension of Bilah's interiors company. Among Bilah's many passions are scarfs. Having grown up with Cressida Bell, the granddaughter of Virginia Woolf, Bilah was always buying the scarfs that Cressida made. Little did she know, decades later this interest in beautiful, silky scarfs would be the start of an ingenious business idea: A service that takes luxury scarfs and makes them into the central design for a lampshade.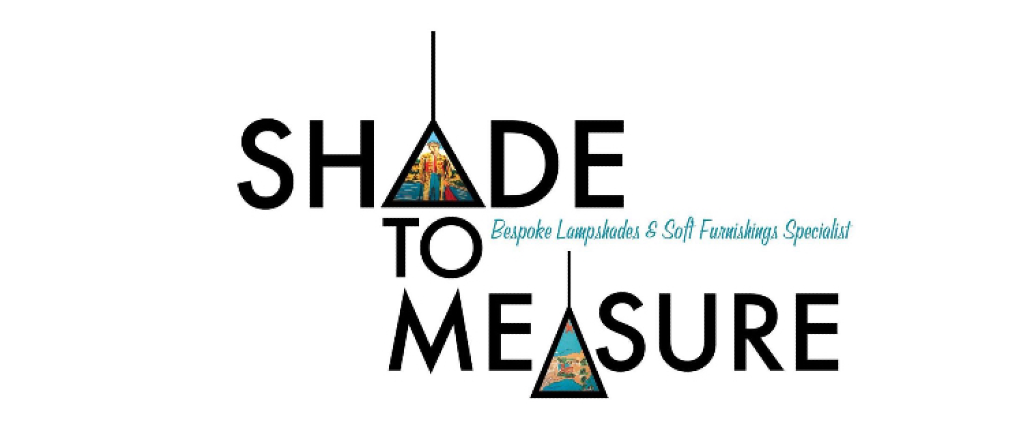 "I saw an ad somewhere I can't remember where it was, years ago, in a magazine. This was the trigger for the idea. It talked about a lampshade maker. A tiny little bespoke lampshade maker. Then I thought, that would work for my interiors. I need lampshades to match. So I had some lampshades done for Felix Dennis. And then decided, well this is great for all the interiors that I do. I called it 'Shade-To-Measure', because it's made to measure. If you want a lampshade to match your stuff, then it's perfect. And then, a ding went off in my head. I thought, well actually, another little kick to that would be to really put it into a niche market, and to have my scarfs turned into lampshades."
I couldn't quite imagine what they're going to look like. I'd never heard of such a thing. However, when Bilah brought them out, I completely understood. The lampshades were stunning, and one of a kind. I'd never quite seen anything like it before. Different lampshades depict the varying cultures of different exotic places around the world such as Sacramento, Jamaica, London, America, Arabia, Spain and Tenerife. They're vintage, yet have a modern feel about them. They're incredibly detailed, but not fussy. I could immediately imagine one on my bedside table, or adorning any room in a house. Among all of Bilah's work that I'd seen, these were truly the stars of the show.
"The scarfs were a big thing in the 40's and 50's. So, I just did some digging and found somebody in Camden Passage, and she had a whole collection of them. They're actually not that hard to find if you know where to look. If somebody says I'd love an Italian, or my family come from Sicily, can you source a Sicilian scarf? Well then, of course you can source it, you pay a little bit more, and that's their specific scarf that they've had made up."
Similarly to her Smock Company, Bilah has infused the central passions of her life into this idea. Her key love for music was the inspiration for two of the lampshades, two of the only ones she plans to keep for herself. She believes that every bespoke lampshade made should be individual to the person, and made up to suit their particular passions and interests:
"It should mean something to you. I just think, what gives me pleasure is that they're all lovely and somebody will love each one. When someone comes and chooses one, it may not be for me, but they may love them. Because that's what they wanted, I wouldn't have chosen it, but they did because they loved it. I absolutely don't have a favourite, but I know they're all for somebody. Somebody will come and go, that's for me. It's a very individual choice. They're all great."
As much as Bilah creates for her own pleasure, from talking to her I realised that it is of equal importance to her, in everything she does, that her creations suit the needs of every client that comes to her. She is extremely careful to tailor her services to what each individual client wants, without installing too much of her own ideas or personal preferences. It's the mark of a great interior designer; I'm coming to learn.
"I've always felt that I've been able to go into homes and make an interior that isn't too personal to me. People should put their own stamp on a space. You can't take over a space as an interior designer, you've got to give it to somebody to own, and then you do your magic. That's always been really important to me."
What I admire most about Bilah, apart from her immense talent and creativity, is her ambition and her positivity. She is inventive, and always seems to always be coming up with new ideas to make a life for herself where she is able to do what she loves every day: Creating. Throughout the years she has done all sorts of impressive jobs, that aren't all necessarily creative. For example, her extensive experience as a PA, and her job as a wardrobe manager for Erin O'Connor. But throughout it all, she never lost sight of her true calling, her true passion. Bilah Greenberg is many things. She is a family girl, a London-born city girl, a music lover, a great organiser and a great admirer of art. And if I know one thing for sure, she is happiest when creating and whatever path she takes next, I know that she will never give up on her next dream. Unlike so many out there, I believe she will never let the burning desire to create fade away. At the end of our conversation, she tells me:
"You have to go with your passion, absolutely. And just know, that it will always come. If you make things happen, if you're positive, if you try, if you put yourself out there, then something will come of it."
Young creative, take note.